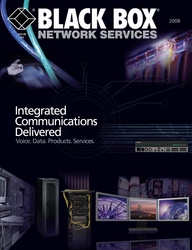 PITTSBURGH (PRWEB) February 4, 2008
The new catalog contains one of the most comprehensive offerings of networking and communications products for IT professionals. It features more than 490 new products in addition to the 118,000+ other products found in the catalog and on the Company's Web site, http://www.blackbox.com.
In keeping with Black Box's long-standing tradition of educating its clients, the catalog features "Black Box Explains" tutorials, Buyer's Guides, and a Technical Reference section, which includes a comprehensive glossary of technical terms. The catalog is one that readers use both as a resource to find products and as a reference tool.
Black Box, long known as the place to go for network infrastructure products and services, built its reputation on its FREE 24/7/365 Tech Support hotline. Whether customers call or click on the "Talk to a Tech" link at the company Web site, they'll be talking to a Technical Support representative in 20 seconds or less. For clients looking for on-site support, Black Box offers full-cycle services from design through installation and maintenance.
Black Box catalogs have won numerous awards. In 2007, the BLACK BOX(R) Catalog won Multichannel Merchant magazine's top award, Catalog of the Year, for the third time in four years. The catalog also took top honors in the Computer Equipment and Software category for the twelfth consecutive year.
For your free copy of the BLACK BOX(R) Catalog, call 877-877-2269 or go to http://www.blackbox.com/go/bigbook.
About Black Box
Black Box is the world's largest technical services company dedicated to designing, building and maintaining today's complicated data and voice infrastructure systems. Black Box services 175,000 clients in 141 countries with 187 offices throughout the world. To learn more, visit the Black Box Web site at http://www.blackbox.com.
Black Box(R) and the Double Diamond logo are registered trademarks of BB Technologies, Inc.