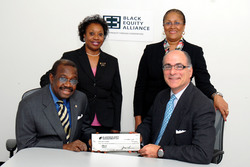 It will equip us with the tools to dramatically enhance our internal communications infrastructure and improve our ability to spearhead much-needed partnerships among New York's black nonprofits. We are grateful for this gift and for Plainfield Asset Management's support of our mission
New York, NY (PRWEB) October 21, 2008
Black Equity Alliance President and Chief Executive Officer Joyce S. Johnson today announced a $25,000 donation from Plainfield Asset Management LLC in support of Phase One of the organization's Equity Pioneers Campaign, a new fundraising drive aimed at raising $1,000,000 by October 2010 to enhance its work advocating for the economic and political empowerment of black New Yorkers.
Presented to Black Equity Alliance by former New York City Schools Chancellor Harold O. Levy, Plainfield Asset Management's Managing Director-Special Counsel, the donation will underwrite a state-of-the-art database that allows the organization to significantly expand its communications capabilities and website technology to more effectively create linkages between black organizations and better serve as an information resource for black nonprofits. Phase One of the Equity Pioneers Campaign runs through January 2009 and seeks to raise $100,000 to expand current initiatives, in addition to the database. Karl Rodney, Vice Chair of Black Equity Alliance's board and Publisher, New York Carib News, accepted the donation from Levy, joined by Johnson and Black Equity Alliance board member Brenda Scott, Director of Minority Community Affairs, Macys. Based in Greenwich, Connecticut, Plainfield Asset Management is an investment advisor registered with the Securities and Exchange Commission that manages in excess of five billion dollars of investment capital for institutions and high net worth individuals in the United States and abroad.
"This generous contribution by Plainfield Asset Management is a dynamic kickoff to phase one of our new campaign," said Rodney. "It will equip us with the tools to dramatically enhance our internal communications infrastructure and improve our ability to spearhead much-needed partnerships among New York's black nonprofits. We are grateful for this gift and for Plainfield Asset Management's support of our mission"
"Having watched Joyce Johnson's work and her results-driven record, Plainfield Asset Management is especially pleased to make this donation," said Levy. "We believe in Joyce's vision and are fully confident that under her leadership Black Equity Alliance will succeed in its important work of enhancing the economic sustainability of the numerous black businesses and community-based organizations that contribute to the growth of our city."
Johnson, who in her three-decades of leadership in the public and private sectors developed a reputation for forging partnerships among disparate groups with competing agendas, said Plainfield Asset Management's gift will enable the organization to build and manage contact information, quadruple its supporter network and implement a vastly improved information management system.
"There's a real gap among black nonprofits in access to resources and capacity-building information," Johnson said. "Plainfield Asset Management's tremendous gift will provide our organization with the tools to eradicate that gap and with the technological capability to become a true advocacy engine for blacks in New York City and state, by pooling resources, information, services and expertise across sectors and industries."
Johnson added that the organization is delighted with the recognition from Chancellor Levy and Plainfield Asset Management and cited the organization's goal to get both ordinary New Yorkers and established organizations involved in the campaign.
"Through the Campaign we hope to get as many average New Yorkers and as broad a cross-section of the business, government, philanthropic and nonprofit communities involved as possible," added Johnson. "Small dollar contributions from the individual donor are just as instrumental to our mission as donations of $25,000 or more."
Individuals or organizations that desire to contribute may mail a check made payable to Black Equity Alliance to: Black Equity Alliance, 2 Park Avenue, 2nd Floor, New York, NY 10016. For more information, contact Black Equity Alliance at 212-251-2420, or by e-mail at: [email protected]
Black Equity Alliance is a federation comprised of stakeholders across the human service, education, political, faith, business, cultural and philanthropic communities engaged in collaboration to foster solutions that lead to economic and social sustainability for blacks in New York. The Alliance is the only institution engaging in policy analysis, research, and advocacy on cross-systems issues on behalf of the black community.
###