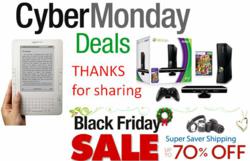 This is going to be a fantastic shopping season for the consumer!
Columbus, Ohio (PRWEB) November 01, 2011
Horn Outlets Online keeps the consumer informed and helps Black Friday and Cyber Monday shoppers find the best deals from the most trusted and top stores online. Through advanced technology and strong affiliations, Horn Outlets online locates the hard to find must have holiday items.
Horn Outlets Online is in full swing looking, finding, and posting the best deals, from the most trusted stores online, to help customers take full advantage of the upcoming Black Friday and Cyber Monday holiday shopping season.
Richard Horn, owner of Horn Outlets Online and i Love 2 Shop From Home says: "Here at Horn Outlets Online we know that online shopping can be tricky. Shoppers want to find what they are looking for without any hassle and they want the best deal when ready to buy. At Horn Outlets Online we deliver the best deals, best sales, and the best brands from the most trusted top stores online."
In addition to their fantastic deal packed sites, Horn Outlets Online is utilizing Facebook and Twitter to get the deals out through social media. There is nothing better than watching the deals come in daily, while the consumer saves money from the comfort of home, work, or school. With Kindle and accessories being the most wanted item this year, we have added Amazon as our Showcase store.
Richard is confident that their customers will appreciate and benefit the hard work that goes into making the consumer life a little easier and letting their money go a little further. The deals are already starting to come in this year as top merchants releasing Pre-Black Friday sales. "This is going to be a fantastic shopping season for the consumer!"
Help us share the word through Facebook , Twitter, and other social media sites. The more consumers know, the more they and their friends will benefit, and save money during this upcoming holiday shopping season.
Shop here today – Bookmark for tomorrow!
###