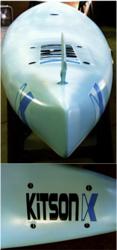 Olympia, Wash. (PRWEB) November 22, 2012
The USA based surfboard and paddle board manufacturer will be celebrating their first Thanksgiving weekend by joining in the Black Friday and Cyber Monday craze by offering all their signature products at 30% off their usual prices.
Kitson Boards President, Michael Kitson, who proudly manufactures all surfboards, paddle boards and wakesurf boards in Olympia, Washington, wanted to mark the end of their first year in businesses with a bonus to their customers.
"Even thought our walk in retail location won't open until early next year, we still wanted to offer up the Black Friday savings many shoppers have become accustom too the day after Thanksgiving on our online retail site." said Kitson.
All Kitson Boards are customized to every customer's specifications, based on height and weight. Shoppers can even choose their own color and design to further make the board their very own.
Founded by Michael and Denise Kitson, Kitson Boards, LLC headquarters is located in Olympia, WA. Kitson Boards are all crafted out of the ultra durable and long lasting carbon fiber material. All production of surfboards, paddle boards and wakesurf boards, as well as the people behind the brand are based in North America. Kitson Boards prides itself on outstanding customer service and only the finest in recreational boarding and accessories. Free shipping is available throughout the continental USA.