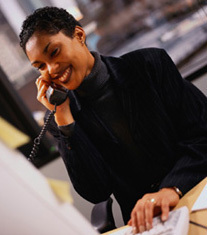 My goal is to make ClassyBlackLady.com the bookmarked destination for all who want to hear positive news about Black women and girls.
New York, NY (PRWEB) September 1, 2010
When Michelle Obama became the first black First Lady of the United States of America nearly two years ago, many Black women rejoiced at the fact that a classy and smart Black lady was finally at the forefront of American culture. It was finally an opportunity for the mainstream media to start reporting on more of the positive aspects of Black American female culture.
But for some reason, the mainstream news media didn't bite. Instead news outlets decided to focus on reporting even more negative and depressing news about Black women as a whole while ignoring the positive.
Let's test this theory. Did you know these facts about Black women?
1) According to WomenEntrepreneur, Black women account for over $600 billion per year in spending power in the United States. (Source: WomenEntrepreneur) They are responsible for 85 percent of spending decisions in the black community.
2) Recent labor statistics released by the US Bureau of Labor Statistics found that out of all groups, Black women were the only group that experienced a consistent decline in unemployment in 2010. (Source: NewsOne and the Bureau of Labor Statistics) Even during recessionary times, Black women have managed to find jobs and continue bringing money into their communities.
3) Statistics from the Census Bureau found that Black women, along with Asian women, are the top earners compared to other groups of women at the same socioeconomic level in the United States. College educated African-American women make an average of $41,100 per year at graduation, which is over 8% more than their White female counterparts. (Source: USA Today, "Census: College-educated white women earning less")
4) Census Bureau statistics showed that Black women business ownership skyrocketed by 75% between 1997 and 2002, and continues to grow consistently. (Source: USAToday, "African-American women step up in business world") This has caused marketers to look to Black women as a significant source of revenue.
Spreading positive news like this about the Black female community has become the mission of Tabitha Thomas, founder of ClassyBlackLady.com.
This website has taken a clear stance to fight negative stereotypes about Black women as a whole and only disseminate the truth: that African-American women as a whole are a classy, educated, hard-working and loving group of people who are making serious power moves in the United States and other nations.
In the United Kingdom for instance, Black females now make more than their White counterparts as well according to the Labour Force Survey. (Source: Daily Mail, "Black women now earning more than their white counterparts")
"You just don't hear much positive news about Black ladies on television or in print," Tabitha explains. "Whenever you hear a major news story about Black women on one of the mainstream networks it's a negative statistic based on a very small segment of the Black female community or some sad tale of marriage woes. Just do a search for 'Black women' on Google and what do you see?"
Goal: Positive News About Black Women
Tabitha finally decided to embark on this project after hearing one too many negative news campaigns against the Black female community. She plans to grow ClassyBlackLady.com into an authoritative, wide scale news and information website focused on the accomplishments and successes of Black women in America and other countries.
"My goal is to make ClassyBlackLady.com the bookmarked destination for all who want to hear positive news about Black women and girls. I am providing a forum where Black ladies of all ages can empower each other," she says.
Tabitha is also looking for positive Black female bloggers to contribute stories as well as support from groups committed to the empowerment and support of Black women to help further this cause. She can be reached at her website or on Twitter @classyblacklady.
###