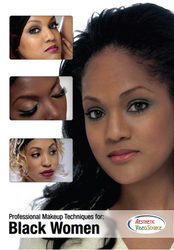 Melvone approaches the entire 'canvas' of the face as an artist
West Jordan, UT (Vocus) August 18, 2009
Most radiant, exquisite and unmatchable Beauty*:
Salt Lake City, UT (Vocus) August 18, 2009 -- Start your dream career as a makeup artist ...or grow your clientele base to provide your services to the full array of beautiful women of different ethnicities. In Aesthetic VideoSource's new Professional Makeup Techniques for Black Women, professional Hollywood makeup artist, Melvone Farrell, shows you techniques and tips for applying makeup on women of African heritage, while providing the latest looks being sought by clients.
In this instructional DVD, Melvone – who has international media and film experience spanning 20 years – demonstrates how to apply makeup to provide natural day makeup, sophisticated evening looks, and amped-up glamour on three models. Melvone shows you how to create different looks for each, with the makeup building on the prior look. A perfectionist at heart, Melvone demonstrates how to provide meticulous results that are camera-ready.
Step-by-step instructions show you how to prep a client's face with moisturizer, foundation, and concealer and apply makeup to the brows, eyelids, eyelashes, cheeks, and lips to achieve looks from the natural to the dramatic. She also shows how to create the perfect eyebrow, bleach brows, shade and highlight to contour the face, play with color, apply eyelash strips, and work with issues unique to the models. She also discusses how to maintain your brushes and supplies.
"I enjoy not only the sensuous and aesthetic beauty of applying makeup, but also knowing what a client is looking for and helping them achieve their desired look," says Melvone.
With a prestigious roster of clients, Melvone Farrell is known for her minimalist approach to makeup and her signature eyebrows. Beauty comes alive with a touch of her brush, as she's known for creating radiant, effortlessly chic looks that appear to glow from within. She has been praised by highly-acclaimed photographers and directors, and her distinctive work can be found in the pages of publications such as Entertainment Weekly, Elle Italia, Marie Claire and People Magazine, and in commercials for Vidal Sassoon, Jaguar, Nike, and Coca-Cola. Her impressive resume and portfolio can be viewed at http://www.melvonemakeup.com.
"Melvone approaches the entire 'canvas' of the face as an artist," says Shirley Erickson Gorospe, president of Aesthetic VideoSource. "She takes colors and plays with them to make the face light up and transform it into a work of art."
Aesthetic VideoSource produces and distributes detailed, comprehensive health and spa instructional DVDs, so anyone – with or without prior experience – can properly perform the procedures shown. Aesthetic VideoSource is the forerunner in educational media distribution, with award-winning DVDs and an always-expanding list of offerings to meet the spa and beauty industry's needs.
Contact Info –Professional Makeup Techniques for Black Women (1Hr. 34 Min.) can be ordered for $44.95 plus shipping, by calling 1-800-414-2434 or visiting http://www.VideoShelf.com. The complete Professional Makeup Techniques DVD set, including DVDs specific to techniques for Caucasian and Asian women, can be purchased for $108.00, at a savings of 20%.
*Shakespeare, Twelfth Night, I, v
###