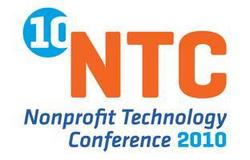 We're pleased to be a lead sponsor and to support NTEN in its effort to help nonprofits use technology to meet community needs and fulfill their missions.
Charleston, SC (Vocus) April 6, 2010
Blackbaud, Inc. (Nasdaq: BLKB) will once again be the diamond sponsor of the Nonprofit Technology Conference (NTC), presented by NTEN: The Nonprofit Technology Network on April 8 to 10 in Atlanta, Georgia.
"Each year, NTC gathers the top innovators in nonprofit technology to learn, network, and explore technology solutions for social change," said Steve MacLaughlin , Blackbaud's director of Internet solutions and NTEN board member. "We're pleased to be a lead sponsor and to support NTEN in its effort to help nonprofits use technology to meet community needs and fulfill their missions."
At the 2010 NTC, Blackbaud is leading and participating in the following activities and events:

Blackbaud "ExpertEase" consulting sessions at the NTC Science Fair—kicking off on Thursday, April 8 at 3 p.m. and featuring Blackbaud's technology and online fundraising experts.
Educational sessions led by Blackbaud nonprofit experts
Thursday, April 8 (multiple sessions); We Are Media Podcasting Workshop—As part of the We Are Media Project, Chad Norman , Blackbaud's Internet marketing manager and host of The Baudcast , will co-present two workshops on podcasting basics for nonprofit. Pre-registration required
Friday, April 9, 3:30 p.m., Chestnut Room; Blackbaud Enterprise CRM™—Facilitating the Constituent Journey—Blackbaud's Richard Geiger will highlight how Blackbaud Enterprise CRM is helping nonprofits transform their view of the donor into the holistic constituent view and how the platform, combined with CRM strategy, are converging to deliver this experience.
Saturday, April 10, 10:30 a.m., Chestnut Room; Blackbaud's Online Event Fundraising Solution—Friends Asking Friends® and the American Heart Association Start! Heart Walk—Blackbaud's Mark Davis will highlight continued advances to Blackbaud's online event fundraising solution, Friends Asking Friends, by showcasing a recently completed project with the American Heart Association.
Saturday, April 10, 1:30 p.m., Room Dogwood A; Online Fundraising Benchmarks and Metrics—This session, led by Blackbaud's Steve MacLaughlin, will explore common benchmarks for how nonprofit organizations should be performing compared to other organizations when it comes to online fundraising. This session will cover common online fundraising metrics, benchmarks, and how to set goals to improve future performance.
Book signing with Blackbaud's Steve MacLaughlin
Saturday, April 10, 10:00 a.m.—Book signing with Steve MacLaughlin, co-editor of Internet Management for Nonprofits. Part of The AFP Fund Development Series, this new book featuring 27 expert authors offers practical, easy-to-follow tips on the ROI of social media, managing your organization using online tools, improving board leadership through online technology, staying on top of developing technology, understanding hits, clicks, and errors, the key to social networking success, and fundraising internationally.
Evening Reception, sponsored by Blackbaud; Saturday, April 10, 5 p.m., Grand Ballroom
For more information on Blackbaud at 2010 NTC and to see the recorded sessions following the event, visit http://www.blackbaud.com/nten.
About Blackbaud
Blackbaud is the leading global provider of software and services designed specifically for nonprofit organizations, enabling them to improve operational efficiency, build strong relationships, and raise more money to support their missions. Approximately 22,000 organizations — including University of Arizona Foundation, American Red Cross, Cancer Research UK, The Taft School, Lincoln Center, In Touch Ministries, Tulsa Community Foundation, Ursinus College, Earthjustice, International Fund for Animal Welfare, and the WGBH Educational Foundation — use one or more Blackbaud products and services for fundraising, constituent relationship management, financial management, website management, direct marketing, education administration, ticketing, business intelligence, prospect research, consulting, and analytics. Since 1981, Blackbaud's sole focus and expertise has been partnering with nonprofits and providing them the solutions they need to make a difference in their local communities and worldwide. Headquartered in the United States, Blackbaud also has operations in Australia, Canada, the Netherlands, and the United Kingdom. For more information, visit http://www.blackbaud.com.
Media Contact:
Melanie Mathos
Blackbaud, Inc.
843.654.3307
Source: Blackbaud
Forward-looking Statements
Except for historical information, all of the statements, expectations, and assumptions contained in this news release are forward-looking statements that involve a number of risks and uncertainties. Although Blackbaud attempts to be accurate in making these forward-looking statements, it is possible that future circumstances might differ from the assumptions on which such statements are based. In addition, other important factors that could cause results to differ materially include the following: general economic risks; uncertainty regarding increased business and renewals from existing customers; continued success in sales growth; management of integration of acquired companies and other risks associated with acquisitions; risks associated with successful implementation of multiple integrated software products; the ability to attract and retain key personnel; risks related to our dividend policy and share repurchase program, including potential limitations on our ability to grow and the possibility that we might discontinue payment of dividends; risks relating to restrictions imposed by the credit facility; risks associated with management of growth; lengthy sales and implementation cycles, particularly in larger organization; technological changes that make our products and services less competitive; and the other risk factors set forth from time to time in the SEC filings for Blackbaud, copies of which are available free of charge at the SEC's website at sec.gov or upon request from Blackbaud's investor relations department. All Blackbaud product names appearing herein are trademarks or registered trademarks of Blackbaud, Inc.
# # #