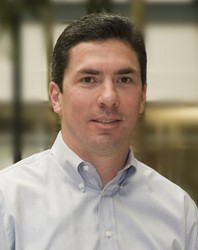 A common trend we hear from thousands of customers is that there is a growing desire to build a sense of community among their supporters and an increasing adoption of multi-channeled fundraising strategies
Charleston, SC (Vocus) March 24, 2008
Blackbaud, Inc. (NASDAQ: BLKB), announced today that it has created Blackbaud Interactive, a new division focused exclusively on Internet solutions and services for nonprofits. Bringing together several large, existing teams, the division was formed to better meet the needs of the company's rapidly growing Internet solutions customer base.
"A common trend we hear from thousands of customers is that there is a growing desire to build a sense of community among their supporters and an increasing adoption of multi-channeled fundraising strategies," said Marc Chardon, Blackbaud's chief executive officer. "To cultivate donors effectively today, nonprofits are seeking innovative web strategies to personalize the online experience and communicate with current and potential supporters in new and more meaningful ways.
"The formation of Blackbaud Interactive reflects our customers' changing needs and will provide them with resources to make the most of their technology investments."
Shaw Drummond will serve as vice president and general manager of Blackbaud Interactive. Drummond joined Blackbaud as chief information officer in 2003. He founded what is now the Blackbaud OnDemand hosting services business in 2004 and led it through a period of rapid growth and adoption.
"Shaw has a demonstrated track record of success at Blackbaud and brings diverse technology industry experience to his new role," said Chardon. "I am confident that under his leadership, Blackbaud Interactive will provide enhanced service for our customers while bringing unparalleled advances in our Internet solutions."
Investments have been made to not only significantly grow the existing team, but also to expand offerings through the Interactive Services team, a group of experienced consultants, designers, developers and project specialists that partner with customers on strategy, design, training and website management.
With OnCall Services, a new offering from Blackbaud Interactive, customers will be able to partner with a dedicated client manager and other experienced professionals on a retainer basis. Through ongoing collaboration with a client manager on website development and design, customers will be able to improve efficiency and deliver on their long-term strategies.
"Our relationship with Blackbaud is a true partnership," said Nora Isaac, ALS Association, Greater Philadelphia Chapter's senior information technology manager. "With a client manager on our side, we are better able to meet our technology objectives so we can ultimately better serve our mission."
Additional investments have been made to enhance the company's hosting services infrastructure and offerings through the formation of Blackbaud OnDemand and the opening of a new world-class hosting and email services center in Atlanta. Blackbaud OnDemand will serve as the foundation for Blackbaud's next generation of solutions.
For more information and to view Blackbaud Interactive customer sites, visit http://interactive.blackbaud.com.
About Blackbaud
Blackbaud is the leading global provider of software and services designed specifically for nonprofit organizations, enabling them to improve operational efficiency, build strong relationships, and raise more money to support their missions. Approximately 19,000 organizations — including the American Red Cross, Dartmouth College, the WGBH Educational Foundation, Episcopal High School, Lincoln Center, Cancer Research UK, Special Olympics, and Arthritis Foundation — use one or more of Blackbaud products and services for fundraising, constituent relationship management, financial management, direct marketing, school administration, ticketing, business intelligence, website management, prospect research, consulting, and analytics. Since 1981, Blackbaud's sole focus and expertise has been partnering with nonprofits and providing them the solutions they need to make a difference in their local communities and worldwide. Headquartered in the United States, Blackbaud also has operations in Canada, the United Kingdom, and Australia. For more information, visit http://www.blackbaud.com.
Media Contact:
Melanie Milonas
Blackbaud, Inc.
melanie.milonas@blackbaud.com
843.216.6200 x3307
Source: Blackbaud
Forward-looking Statements
Except for historical information, all of the statements, expectations, and assumptions contained in this news release are forward-looking statements that involve a number of risks and uncertainties. Although Blackbaud attempts to be accurate in making these forward-looking statements, it is possible that future circumstances might differ from the assumptions on which such statements are based. In addition, other important factors that could cause results to differ materially include the following: management of integration of recently acquired companies and other risks associated with acquisitions; risk associated with successful implementation of multiple integrated software products; lengthy sales and implementation cycles, particularly in larger organizations; uncertainty regarding increased business and renewals from existing customers; continued success in sales growth; the ability to attract and retain key personnel; risks related to our dividend policy and share repurchase program, including potential limitations on our ability to grow and the possibility that we might discontinue payment of dividends; risks relating to restrictions imposed by the credit facility; risks associated with management of growth; technological changes that make our products and services less competitive; and the other risk factors set forth from time to time in the SEC filings for Blackbaud, copies of which are available free of charge at the SEC's websites at http://www.sec.gov or upon request from Blackbaud's investor relations department.
All Blackbaud product names appearing herein are trademarks or registered trademarks of Blackbaud, Inc.
###