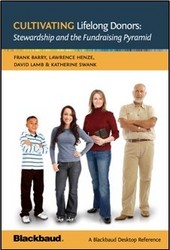 The Cultivating Lifelong Donors book and web seminar series are designed to help nonprofits build giving programs that span the entire supporter lifecycle.
Charleston, SC (Vocus) July 26, 2010
Blackbaud, Inc., (Nasdaq: BLKB) has released a new book Cultivating Lifelong Donors: Stewardship and the Fundraising Pyramid covering best practices for building long-term giving programs. The nonprofit software and services company is also hosting a free web seminar series that will bring to life the topics covered in each chapter of the book. Nonprofit professionals can visit Blackbaud's website to download a complimentary electronic copy of the book and register for the free web seminar series.
"The Cultivating Lifelong Donors book and web seminar series are designed to help nonprofits build giving programs that span the entire supporter lifecycle," said Lawrence Henze, managing director of Target Analytics and co-author of the book. "As we wrote the book and developed the seminars, we wanted to help nonprofits build strategies for cultivating donors from initial engagement up through ultimate giving."
Authored by four nonprofit experts — Frank Barry, Lawrence Henze, David Lamb and Katherine Swank — Cultivating Lifelong Donors: Stewardship and the Fundraising Pyramid covers key methods for building a successful fundraising pyramid and how to steward and engage donors at each giving level.
By attending the web seminar series, nonprofit professionals will learn best practices for encouraging supporters to transition through the fundraising pyramid to reach their ultimate giving level. Each session will build on the content from the previous session, so nonprofits can get a full overview of how to build strategies and action plans to maximize fundraising results. Plus, a free copy of the book will be mailed to all attendees of the web seminars at the conclusion of the series.
The Cultivating Lifelong Donors web seminar series will feature the following four sessions:

Cultivating Lifelong Donors, Part 1: Get Engaged — Donor Engagement through Social Media
Frank Barry, Professional Services Manager, Blackbaud
August 4 at 1 p.m. ET
This session will explore how social media can help support nonprofits' existing overall fundraising goals by assisting in cultivating supporter relationships, building cause awareness, boosting online fundraising, and connecting with new supporters.
Cultivating Lifelong Donors, Part 2: Keeping Them — Stewarding "One-Time" Donors for Lasting Support
David Lamb, Prospect Research Consultant, Target Analytics
August 11 at 1 p.m. ET
This session will explore the phenomenon of one-time and disaster donors. Attendees will discover tactics for retaining these supporters and how to kindle each spark of compassion into a flame of philanthropy.
Cultivating Lifelong Donors, Part 3: Pyramid Power — Transitional Giving for Building Strong Fundraising Pyramids
Lawrence Henze, Managing Director, Target Analytics
August 18 at 1 p.m. ET
This session will explore the topic of transitional giving prospects: annual-fund donors who demonstrate potential to become mid- to high-level prospects. Participants will learn how to identify transitional giving prospects and how to implement targeted development strategies to encourage movement up the giving pyramid.
Cultivating Lifelong Donors, Part 4: Peak Performance — Strategic Stewardship for Planned Giving Programs
Katherine Swank, Consultant, Target Analytics
August 25 at 1 p.m. ET
This session will explore how building an intentional bond with planned giving prospects improves nonprofits' chances of receiving increased gifts from them now, as well as increased or additional legacy gifts in the future.
Nonprofit professionals can sign up for these free web seminars at http://www.blackbaud.com/CultivateDonors.
Cultivating Lifelong Donors: Stewardship and the Fundraising Pyramid is the fourth book of Blackbaud's Desktop Reference Series. The book series is dedicated to exploring the subjects of nonprofit fundraising and prospect research. Past books in the series include Boosting Your Giving Programs through Prospect Research, Creating a Legacy: Building a Planned Giving Program from the Ground Up, and Building Fundraising Momentum in a Recession. Nonprofit professionals can download a free copy of Cultivating Lifelong Donors: Stewardship and the Fundraising Pyramid as well as the other books in the Desktop Reference Series at http://www.blackbaud.com/DesktopReference.
About Blackbaud
Blackbaud is the leading global provider of software and services designed specifically for nonprofit organizations, enabling them to improve operational efficiency, build strong relationships, and raise more money to support their missions. Approximately 22,000 organizations — including University of Arizona Foundation, American Red Cross, Cancer Research UK, The Taft School, Lincoln Center, In Touch Ministries, Tulsa Community Foundation, Ursinus College, Earthjustice, International Fund for Animal Welfare, and the WGBH Educational Foundation — use one or more Blackbaud products and services for fundraising, constituent relationship management, financial management, website management, direct marketing, education administration, ticketing, business intelligence, prospect research, consulting, and analytics. Since 1981, Blackbaud's sole focus and expertise has been partnering with nonprofits and providing them the solutions they need to make a difference in their local communities and worldwide. Headquartered in the United States, Blackbaud also has operations in Australia, Canada, Hong Kong, the Netherlands, and the United Kingdom. For more information, visit http://www.blackbaud.com.
Media Contact:
Melanie Mathos
Blackbaud, Inc.
843.216.6200 x3307
Source: Blackbaud
Forward-looking Statements
Except for historical information, all of the statements, expectations, and assumptions contained in this news release are forward-looking statements that involve a number of risks and uncertainties. Although Blackbaud attempts to be accurate in making these forward-looking statements, it is possible that future circumstances might differ from the assumptions on which such statements are based. In addition, other important factors that could cause results to differ materially include the following: general economic risks; uncertainty regarding increased business and renewals from existing customers; continued success in sales growth; management of integration of acquired companies and other risks associated with acquisitions; risks associated with successful implementation of multiple integrated software products; the ability to attract and retain key personnel; risks related to our dividend policy and share repurchase program, including potential limitations on our ability to grow and the possibility that we might discontinue payment of dividends; risks relating to restrictions imposed by the credit facility; risks associated with management of growth; lengthy sales and implementation cycles, particularly in larger organization; technological changes that make our products and services less competitive; and the other risk factors set forth from time to time in the SEC filings for Blackbaud, copies of which are available free of charge at the SEC's website at http://www.sec.gov or upon request from Blackbaud's investor relations department. All Blackbaud product names appearing herein are trademarks or registered trademarks of Blackbaud, Inc.
###