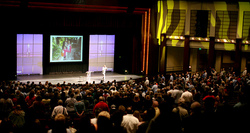 We're so excited to bring Blackbaud's 11th annual North American Conference for Nonprofits to Washington D.C. this year and to once again hold our European Conference for Nonprofits, which has a strong focus on supporter relations, in London.
Charleston, SC (Vocus) February 4, 2010
Blackbaud, Inc., (Nasdaq: BLKB) today announced its global conference schedule, including the 2010 Blackbaud Conference for Nonprofits™ — North America on September 7 to 10 at the Gaylord National Hotel and Convention Center, Washington, D.C. and the 2010 Blackbaud Conference for Nonprofits™ — Europe on October 11 to 12 at Victoria Park Plaza, London.
"We're so excited to bring Blackbaud's 11th annual North American Conference for Nonprofits to Washington D.C. this year and to once again hold our European Conference for Nonprofits, which has a strong focus on supporter relations, in London," said Mary Beth Natarajan, Blackbaud's director of communications. "This year's conferences will provide unprecedented networking and learning experiences, partnering opportunities and fresh, new interactive sessions."
Blackbaud's 2010 Conference for Nonprofits — North America will provide nonprofit professionals with four days of specialized educational content and opportunities to network and interact with peers and nonprofit experts.
"Having attended most of the annual Blackbaud conferences and having had the privilege of speaking at two of them, it is wonderful to see how this conference continues to evolve in depth, knowledge and content of sessions as well as in the expertise of speakers," said Anne Caldera, director of philanthropy services at Lahey Clinic, who attended the first Blackbaud Conference in 1999. "With the Blackbaud product line continuing to advance, it is imperative to have an event like this that will accommodate client needs and deliver current and future product information.
"The keynote speakers at this conference have been outstanding over the years with very inspirational messaging. Blackbaud provides the best value for a complete conference experience. Washington, D.C. is a wonderful location, and it is well worth the time and expense to attend."
>> Watch video recordings of the 2009 Conference keynotes and breakout sessions
Building on the success of the 2009 Conference for Nonprofits in Charleston, which drew more than 1000 attendees, the move to the nation's capital — the nonprofit hub — will provide an expanded venue to accommodate an increase in attendees.
"By providing unparalleled accessibility for attendees with affordable airfares, competitive lodging rates, and flat registration fees, we are making it easier than ever for nonprofit professionals and industry experts to attend, learn, and share their knowledge," said Natarajan. "With Washington, D.C. as the backdrop, the Conference will also feature several unique evening events."
In addition, this year's North American Conference will feature an expanded venue with 200 sessions — nearly double compared to previous years. Conference sessions will include specific content for all Blackbaud products and nonprofit segments (higher education, k-12 schools, public broadcasting, etc.) and will once again feature in-demand subjects including future technology, donor retention, Internet marketing, online fundraising, and social media. The 2010 Conference will see the return of computer lab skill-building workshops. This year's marketplace will also be expanded, providing attendees with a chance to learn more about Blackbaud products and services and meet with Blackbaud partners.
In 2009, Blackbaud lived the value of the Conference theme (and its corporate value), "Service to Others Makes the World a Better Place," by directing approximately $200,000 worth of expenses to nonprofits and incorporating service projects throughout the event. In 2010, the company is committed to directing 25 percent of Conference expenses back to nonprofits.
Early-bird registration and a call for speakers will launch on March 1, 2010. For more information, and to see the agenda-at-a-glance, visit http://events.blackbaud.com. Follow the Conference news on Twitter at http://www.twitter.com/bbcon or become a fan of Blackbaud on Facebook at http://www.facebook.com/blackbaud.
The 2010 Blackbaud Conference for Nonprofits — Europe will build on the success of last year's Relationship Management Conference in London which drew 220 delegates to learn about marketing, website management, fundraising, supporter relations, performance management and Blackbaud products.
The Conference will once again be packed with new content, practical ideas and valuable networking opportunities. Visit http://www.blackbaud.co.uk to learn more.
About Blackbaud
Blackbaud is the leading global provider of software and services designed specifically for nonprofit organizations, enabling them to improve operational efficiency, build strong relationships, and raise more money to support their missions. Approximately 22,000 organizations — including University of Arizona Foundation, American Red Cross, Cancer Research UK, The Taft School, Lincoln Center, In Touch Ministries, Tulsa Community Foundation, Ursinus College, Earthjustice, International Fund for Animal Welfare, and the WGBH Educational Foundation — use one or more Blackbaud products and services for fundraising, constituent relationship management, financial management, website management, direct marketing, education administration, ticketing, business intelligence, prospect research, consulting, and analytics. Since 1981, Blackbaud's sole focus and expertise has been partnering with nonprofits and providing them the solutions they need to make a difference in their local communities and worldwide. Headquartered in the United States, Blackbaud also has operations in Australia, Canada, the Netherlands, and the United Kingdom. For more information, visit http://www.blackbaud.com.
Media Contact:
Melanie Mathos
Blackbaud, Inc.
843.216.6200 x3307
melanie.mathos (at) blackbaud (dot) com
Source: Blackbaud
Forward-looking Statements
Except for historical information, all of the statements, expectations, and assumptions contained in this news release are forward-looking statements that involve a number of risks and uncertainties. Although Blackbaud attempts to be accurate in making these forward-looking statements, it is possible that future circumstances might differ from the assumptions on which such statements are based. In addition, other important factors that could cause results to differ materially include the following: general economic risks; uncertainty regarding increased business and renewals from existing customers; continued success in sales growth; management of integration of acquired companies and other risks associated with acquisitions; risks associated with successful implementation of multiple integrated software products; the ability to attract and retain key personnel; risks related to our dividend policy and share repurchase program, including potential limitations on our ability to grow and the possibility that we might discontinue payment of dividends; risks relating to restrictions imposed by the credit facility; risks associated with management of growth; lengthy sales and implementation cycles, particularly in larger organization; technological changes that make our products and services less competitive; and the other risk factors set forth from time to time in the SEC filings for Blackbaud, copies of which are available free of charge at the SEC's website at http://www.sec.gov or upon request from Blackbaud's investor relations department. All Blackbaud product names appearing herein are trademarks or registered trademarks of Blackbaud, Inc.
###