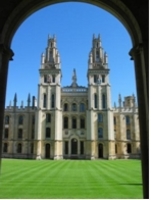 We selected Blackbaud as our partner and Enterprise CRM as the database system, after a thorough international tendering process, because it provides us with a robust and functionally-rich solution for users across the Collegiate University
London (Vocus) December 8, 2008
Blackbaud Europe, Ltd., a division of Blackbaud, Inc. (Nasdaq: BLKB), announced today that Oxford University has selected Blackbaud Enterprise CRM™ to support its global fundraising operations.
"We selected Blackbaud as our partner and Enterprise CRM as the database system, after a thorough international tendering process, because it provides us with a robust and functionally-rich solution for users across the Collegiate University," said Sue Cunningham, University of Oxford's Director of Development. "We were in particular need of a database that could deal with the key requirements of securing and co-ordinating data, a system large enough to facilitate the needs of our collegiate structure and a strong web presence for alumni and friends."
The University of Oxford is the oldest university in the English-speaking world, and is regarded as one of the world's leading academic institutions. The University has 38 independent colleges, and six permanent private halls. Academically, Oxford is consistently ranked in the world's top 10 universities, while being ranked the top university in the UK by several university guide tables, including The Times and The Guardian.
"We are proud to partner with The University of Oxford," said Martin Jervis, Blackbaud Europe's managing director. "A fundraising operation that serves one of the world's most prestigious institutions and incorporates a collegiate structure results in a highly challenging set of needs. Using Blackbaud Enterprise CRM, the University of Oxford staff members will have a scalable, sophisticated solution that provides them with all the tools needed to successfully manage the complexities of global fundraising."
To assist with the successful delivery of The Campaign for the University of Oxford, the University has agreed to a detailed set of specifications due to the large scope of the project. A highly specialised solution was needed. The fundraising campaign is a £1.25 billion initiative that includes all 38 independent colleges and six private halls. All facets of the University will be working together to improve fundraising messaging, alumni relations, targeted marketing, data sharing and reporting. This requires enhanced data security, to support better streamlining of fundraising efforts and more sophisticated reporting and analysis capabilities.
Blackbaud Enterprise CRM, powered by a next-generation technology platform, will enable all of the divisions of the University to gain a centralised, 360-degree view of constituents in real-time and from remote locations. Highly configurable security settings will address Oxford's need for complex role-based security parameters. User-friendly reporting and analysis tools will allow staff to access timely and accurate information in order to make better informed decisions, personalise interactions, provide superior service, and build stronger relationships with the University's 180,000 alumni and friends.
Key features of Blackbaud Enterprise CRM include:

Enterprise Scalability - leveraging Blackbaud's Infinity platform for the largest, multi-site organisations
Secure Data Management - with assigned role-based rights and privileges for sharing or restricting information within the organisation and between departments
Customisation - with the ability to closely map relationship management functions (fundraising, direct marketing, etc.) to comply with the organisation's rules and processes and with EU Data Protection legislation
Flexibility - customising the end-user experience to support organisational and individual user needs
For more information on Blackbaud's solutions for constituent management, visit
http://www.blackbaud.com/CRM.
About The Campaign for the University of Oxford
The Campaign for the University of Oxford aims to sustain and enhance Oxford's international reputation and provide security in a world of uncertain state funding and growing global competition. The Campaign launched in May 2008 with a minimum target of £1.25 billion. It will ensure Oxford can attract the most gifted students from around the world, irrespective of their financial situation. It will allow Oxford to compete for the best scholars, tutors and researchers internationally and provide the infrastructure and facilities needed to support world-class students and academics and cutting-edge research programmes. For more information, visit http://www.campaign.ox.ac.uk.
About Blackbaud Europe
Blackbaud Europe, Ltd. is a division of Blackbaud, Inc. (Nasdaq: BLKB), the leading global provider of software and related services designed specifically for not-for-profit organisations, enabling them to improve operational efficiency, build strong relationships, and raise more money to support their missions. More than 22,000 organisations - including Cancer Research UK, CRISIS, University of Cambridge and English National Opera - use one or more of Blackbaud products and consulting services for in-house and online ticketing, marketing, website management, and fundraising. Blackbaud's solutions include The Raiser's Edge®, The Patron Edge®, The Information Edge™, Blackbaud Gift Aid™ and Blackbaud® NetCommunity™ as well as a wide range of consulting and educational services. Since 1981, Blackbaud's sole focus and expertise has been partnering with not-for-profits and providing them the solutions they need to make a difference in their local communities and worldwide. Headquartered in the United States, Blackbaud also has operations in the United Kingdom, Canada and Australia. For more information, visit http://www.blackbaud.co.uk.
Media Contacts:
Michaela Wright
Blackbaud Europe Ltd.
michaela.wright@blackbaud.co.uk
+44 (0) 207 921 9648
Melanie Mathos
Blackbaud, Inc.
melanie.mathos@blackbaud.com
843.216.6200 x3307
Source: Blackbaud Europe
Forward-looking Statements
Except for historical information, all of the statements, expectations, and assumptions contained in this news release are forward-looking statements that involve a number of risks and uncertainties. Although Blackbaud attempts to be accurate in making these forward-looking statements, it is possible that future circumstances might differ from the assumptions on which such statements are based. In addition, other important factors that could cause results to differ materially include the following: general economic risks; uncertainty regarding increased business and renewals from existing customers; continued success in sales growth; management of integration of acquired companies and other risks associated with acquisitions; risks associated with successful implementation of multiple integrated software products; the ability to attract and retain key personnel; risks related to our dividend policy and share repurchase program, including potential limitations on our ability to grow and the possibility that we might discontinue payment of dividends; risks relating to restrictions imposed by the credit facility; risks associated with management of growth; lengthy sales and implementation cycles, particularly in larger organization; technological changes that make our products and services less competitive; and the other risk factors set forth from time to time in the SEC filings for Blackbaud, copies of which are available free of charge at the SEC's website at http://www.sec.gov or upon request from Blackbaud's investor relations department.
###