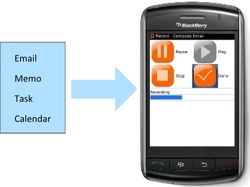 We offer a unique blend of accuracy, security, and thoughtful features.
Sunnyvale, California (PRWEB) July 21, 2009
MyCaption.com, a leading provider of a voice recognition software application for BlackBerry® smartphone from Research In Motion (RIM), has announced more new features today. Its latest version now supports the capability to attach a convenience key to four commonly used productivity tools in a BlackBerry® smartphone: (1) Compose a new email; (2) Create a new Calendar appointment; (3) Create a new Task; or (4) Write a new Memo.
A simple "Preferences" menu lets users select either of these four functions to launch with a single-click operation. The convenience key is located on the side of a BlackBerry® smartphone. Its main benefit is that a user doesn't even have to look at the smartphone to operate it.
The software is available immediately and works on any BlackBerry smartphone with OS 4.2.1 or higher, including the BlackBerry® Tour™. But users of the BlackBerry® Storm™ will especially appreciate large buttons and support for both portrait and landscape orientations, making this one of the coolest BlackBerry Storm applications.
Since 2008, MyCaption has been enhancing core BlackBerry applications like Email, Calendar, Memos, Contacts and Tasks with a voice recognition software system that just works -- works accurately, and every time. The new programmable single-click facility is now added in response to many customers who requested it -- a growing base of users are leveraging their BlackBerry® smartphone as a productivity tool beyond email, noting down tasks, memos and calendar appointments, while on the go.
Standard key features include:

Ample dictation time (up to 3 minutes).
Text Review: an option to edit email text before it is sent.
Support for BlackBerry® Enterprise Server and connectivity to enterprise applications.
Support for multiple email accounts.
Customizable dictionary to fit the user's vocabulary. This service grows with the user, 'learning' profession-specific phrases and acronyms.
"It is attention to system level issues like these that makes MyCaption one of the best BlackBerry applications for business," said Mr. Vipul Bhatt, President of MyCaption, "We offer a unique blend of accuracy, security, and thoughtful features."
Pricing and Availability
The software is available immediately, and can be used with all major carriers worldwide. Existing customers of MyCaption can upgrade to the new version for free. New users can begin by enrolling for a Free Trial. Prices and Plans are available on the company's website.
About MyCaption
Founded by telecom and enterprise-software experts, and headquartered in Sunnyvale, California, MyCaption.com, Inc., serves mobile business users with voice recognition applications, including those for the BlackBerry smartphone and PBX Voicemail. MyCaption is a member of the BlackBerry Alliance.
The BlackBerry® and RIM families of related marks, images and symbols are the exclusive properties and trademarks of Research In Motion Limited.
###