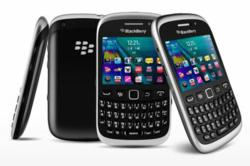 Denver, Colorado (PRWEB) February 15, 2013
BlackBerry devices feature characteristics that make them more appealing for the buyers interested in budget smartphones. Most of the BlackBerry handsets pertain to the users looking for simplicity and quality business communication.
According to http://www.FindMyPrice.net BlackBerry Curve 9320/9315 is not only the cheapest handset released by RIM but also the one handset that pertains more to entertainment than any other previous models. Find My Price has reviewed the deals available for this particular handset and has published the first report on BlackBerry Curve 9320, the GSM version.
BlackBerry Curve 9320/9315 runs on the next generation of BlackBerry OS (7.1) which Research in Motion says "it delivers the smoothest and fastest BlackBerry experience to date". It brings to the table new features that pertain to the buyer interested in both entertainment and simplicity in communication. BBM is fast and integrated with popular social networking apps such as Facebook and Twitter, as well as BBM Music, BlackBerry Travel and App World.
Curve 9320/9315 is the cheapest smartphone Research in Motion has released so far, offering quality tech specs for the cost-effective price. The hot deal review by Find My Price looked at an GSM Curve 9320 that sold for $228.00 on Amazon, down from $299.99. The At 4.92 by 2.36 by 0.5 inches and 3.63 oz smartphone features a QWERTY keyboard with the optical trackpad, the four mechanical standard buttons around it and a special shortcut key for BBM.
The handset connects to the internet via Wi-Fi and features a 3.2MP camera with LED light, not to mention the lengthy battery life (stand-by: 432 hours, talk time 7 hours, music play 30 hours). The low-screen resolution on Curve 9320 offers a pixel density of only 164ppi, but for emailing, text messaging, chat, social networking and navigating maps, the screen delivers a decent performance.
A GSM handset allows users to change foreign SIMs when they travel abroad to avoid expensive roaming fees.
Price comparison service Find My Price delivers regular updates and reviews for electronics, popular and unknown, cheap and premium, discounted or full price. Reviews take into account every bit of information available for a particular product, including full tech specifications, buyers' feedback, reported caveats from users, performance test results, product comparisons.
Find My Price aims to deliver accurate information and reviews on electronics, as well as discounts to help buyers get the most bang for their buck for desired products. The reviews available on the Find My Price website look at the biggest selling points users are interested in, such as OS and brand, price, battery life, screen quality, Internet connectivity and speed, app performance and accessibility, user friendliness, voice call quality and network coverage (for smartphones and other handsets).