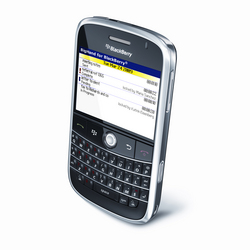 BigHand for BlackBerry® can now truly challenge a professional recording device in terms of voice capacity, adding to the existing usability and instant wireless communication advantages.
London, UK (PRWEB) February 23, 2010
BigHand, the leading voice productivity vendor in the professional services and public sector community, has today launched the latest iteration of its award-winning BigHand for BlackBerry® Dictation App, first released in May 2007. The launch moves BigHand further ahead of its competition in terms of BlackBerry® device support, ensures BigHand software remains the easiest digital dictation product to administer on the market, and allows unrestricted individual dictation length (meaning a BlackBerry can now match a professional dictation device in terms of individual and total recording capacity).
The latest BigHand for BlackBerry® edition now includes:

Support for BlackBerry Bold™ 9700 and Storm2™ series of devices
Support for BlackBerry OS 5
Unrestricted individual dictation length or total capacity (limited only by size of SD-card)
Dictations which fail to be sent due to network coverage are now resent automatically after a configurable period of time. This feature can be enabled or disabled by the user
Dictation status is also updated automatically after a configurable period of time. This feature can be enabled or disabled by the user
Simplified deployment & configuration covering permissions, user/email address selection, password prompts & sync exceptions
Will Richardson, Technical Director at BigHand, comments: "We continue to lead in BlackBerry® Smartphone support, but more significant in this iteration are the capacity and deployment enhancements. BigHand for BlackBerry® can now truly challenge a professional recording device in terms of voice capacity, adding to the existing usability and instant wireless communication advantages. When you also factor in it is as easy-to-install and administer our software on the BlackBerry® as it is on the desktop, convergence to the BlackBerry® for dictation surely becomes a case of 'when' not 'if' for organisations who rely on dictation as a critical part of the document production process."
###