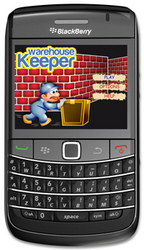 An entirely new dimension of puzzle-adventure experience.
(PRWEB) July 29, 2010
S4BB Limited today announced the release of Warehouse Keeper 1.0, a brand new game for BlackBerry® smartphones. This puzzle is highly addictive, unique on the BlackBerry® platform and provides over 200 hours of exciting gameplay.
Entertainment and games have grown big on smartphones recently. S4BB Limited followed the demand of their user base with Warehouse Keeper and now provides one more dazzling game for mobile entertainment.
Warehouse Keeper is a puzzle game where the player moves a character over a maze who is supposed to take care of his warehouse. Boxes are scattered throughout the level and it is the warehouse keeper's job to re-stack the facility pushing one box at a time. Once all boxes are at their right place, the level is completed. Controlling the character can be done using the BlackBerry's trackball, trackpad or touch screen.
A free trial version can be downloaded to experience the first five levels. The trial version can be played unlimitedly, until the first levels have been completed. It is always possible jump levels back and forth as well as saving the current playing state.
The Warehouse Keeper full version comes with the whole set of 92 levels, unlimited undo and undo push capabilities as well as free lifetime updates and upgrades. A comprehensive user guide and sound effects are part of the game as well.
All current BlackBerry® models running BlackBerry® OS 4.7 and higher are compatible with Warehouse Keeper. This includes but is not limited to the brand new BlackBerry® Curve™ 9300, BlackBerry® Bold™ 9650, BlackBerry® Pearl™ 3G 9100, BlackBerry® Storm2™.
Warehouse Keeper is now available on BlackBerry® App World, all major mobile content platforms as well as directly on http://www.s4bb.com. For additional information about Warehouse Keeper, please contact S4BB Limited or visit http://www.s4bb.com/software/warehouse-keeper/
About S4BB Limited:
S4BB Limited is a Hong Kong-based company, specializing in the development of mobile applications. Its market-leading BlackBerry® products cover nearly all aspects of what is possible on a mobile device. It provides software for the world-wide mobile market, such as games, productivity applications, administration tools, mobile communication products, as well as desktop applications for preparing data for your mobile device.
###