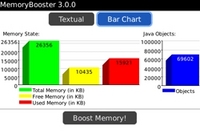 Hong Kong (PRWEB) September 19, 2009
Modern smartphones can run a lot of applications which might slow them down. MemoryBooster has been specifically designed for BlackBerry® Smartphones to recover wasted memory and speed them up tremendously. For years, MemoryBooster is well known amongst BlackBerry® users – now S4BB Limited released MemoryBooster 3.0 with new features.
MemoryBooster is able to recover up to 15 MB of memory per boost which speeds up the device by a factor of five! If used regularly, MemoryBooster is able to recover wasted memory of hundreds of Megabytes which significantly boosts the speed of the BlackBerry® Wireless Handheld.
Based MemoryBooster's highly sufficient memory boosting mechanisms, the new version 3.0 features automatic boost triggering. This helps to stay focused on the important tasks with the BlackBerry® by keeping the memory clean and the device fast at all times. MemoryBooster can detect when the device is about to run out of memory which then triggers a memory boost to maintain device performance. It is also possible to let MemoryBooster perform a memory boost periodically to preventively keep the fast in all circumstances. By integrating with native BlackBerry® applications like Messages, Calendar, Tasks, MemoPad, and more, a memory boost can be performed manually from nearly any location within the BlackBerry®.
Extensive statistical data of all memory boosts is gathered to give an overview of how much memory was actually recovered. This shows how much work MemoryBooster is doing and therefore, it allows to track the effectiveness of using the application compared to the memory wasting age before MemoryBooster.
All current BlackBerry® models running BlackBerry® OS 4.5 and higher are compatible with MemoryBooster 3. This includes but is not limited to the brand new BlackBerry® Curve™ 8900 and 8520, BlackBerry® Bold™, BlackBerry® Pearl™ 8220 Flip™, BlackBerry® Storm™ and BlackBerry® Tour™.
MemoryBooster is available on BlackBerry® App World, all major mobile content platforms as well as directly on http://www.s4bb.com. For additional information about MemoryBooster, please contact S4BB Limited or visit http://www.s4bb.com/software/memorybooster/
About S4BB Limited:
S4BB Limited is a Hong Kong-based company, specializing in the development of mobile applications. Its market-leading BlackBerry® products cover nearly all aspects of what is possible on a mobile device. It provides software for the world-wide mobile market, such as games, productivity applications, administration tools, mobile communication products, as well as desktop applications for preparing data for your mobile device.
###