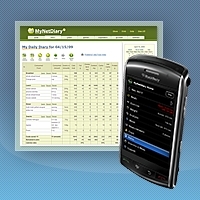 Smartphones, like the BlackBerry and iPhone
Cherry Hill, NJ (PRWEB) July 9, 2009
For on-the-go weight loss and active lifestyles, the newly launched MyNetDiary Calorie Counter for the BlackBerry platform revolutionizes the ease of tracking foods and exercise.
4Technologies Corporation, a BlackBerry Alliance member, has released a free BlackBerry application allowing mobile access to MyNetDiary - a modern, comprehensive online food diary and diet service. The company's venture into the world of BlackBerry complements the same full-featured iPhone Calorie Counter application it released in August 2008.
"Smartphones, like the BlackBerry and iPhone," says Serguei Orechko, CEO of 4Technologies Corporation, "are becoming lifestyle companions, and now they can be used to help people lose weight healthfully by keeping both their food and exercise logs up-to-date with their online MyNetDiary accounts while on-the-go."
There are over 21 million BlackBerry smartphones in use today in 140 countries and through 375 wireless networks. The MyNetDiary Calorie Counter for BlackBerry is the most full-featured and comprehensive calorie counter and diet tool available on the BlackBerry platform.
The MyNetDiary Calorie Counter for BlackBerry tracks up to 36 different nutrients and pulls food information from a database with over 88,000 U.S., UK and Canadian foods and restaurants. It is fully optimized for mobile phones, searching as you type and automatically correcting typos. Used in conjunction with a MyNetDiary account, a member has unlimited access to food planning tools, charts and fully-detailed reports. MyNetDiary members can also link to their Twitter accounts, automatically sending "tweets" of their foods, exercises and weigh-ins for added accountability.
The MyNetDiary Calorie Counter for BlackBerry is free for MyNetDiary subscribers and can be downloaded directly to BlackBerry Storm via the BlackBerry App World application, or downloaded and installed over-the-air (OTA) from MyNetDiary's web site. Special versions optimized for BlackBerry Bold and BlackBerry Curve are expected the next week.
For more information about MyNetDiary or their free Calorie Counter for BlackBerry, or to become a member, visit http://www.mynetdiary.com.
About MyNetDiary
Launched in 2007, MyNetDiary is a comprehensive, modern online diet service that helps people lose weight safely while following American Dietetic Association guidelines. A low-cost subscription to MyNetDiary offers a personalized analysis of your calorie and nutrient needs, assistance with target weight goals, online and mobile tracking for foods and exercise, and access to personalized progress charts.
###