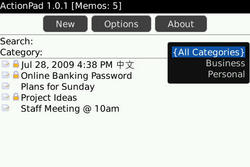 Hong Kong (PRWEB) September 3, 2009
Professional memo management on BlackBerry® Wireless Handheld devices was not available until today. All shortcomings of the original MemoPad™ application provided by RIM with the BlackBerry® will be overcome by using ActionPad. S4BB Limited just published the final version of ActionPad and is now leading the mobile productivity market for memo management software on BlackBerry® devices.
Based on the prove NextAction! (their market leading GTD® task management software) approach on how to work productively with a mobile device, ActionPad allows the most easiest access to memos. Category management is available in its purest form to provide quick access to memos assigned to a special category. While the original MemoPad™ application just provides title search, ActionPad comes with full content search which makes it very productive to find what you are really looking for.
Data protection is always the most crucial part of private data on a BlackBerry® device. ActionPad provides the unique method of protecting each memo with a separate password. By protecting a memo, the memo content will be encrypted using AES (Advanced Encryption Standard) encryption algorithms which make the content unaccessible for third parties who do not know the password. AES is a very reliable and highly secure encryption algorithm that has been approved by the NSA (National Security Agency) to protect highly confidential U.S. Government data.
Integrating advanced memo management systems like ActionPad into other systems (enterprise or desktop) is essential for a productive life. ActionPad integrates with the BlackBerry's internal memo database. Therefore it is possible to synchronize all memos with desktop applications like Microsoft Outlook®, Apple Stickies, and more. Enterprise synchronization with systems like Microsoft Exchange®, Lotus Notes®, Novel Groupwise® and Act! is supported through proven wireless synchronization mechanisms provided by the BlackBerry® Enterprise Server (BES®).
ActionPad has been optimized as a standalone product but also integrates well with other products of the productivity application portfolio provided by S4BB Limited as well as native BlackBerry® applications. It is now very easy to convert an incoming email, SMS text message, contact, calendar event, task, or even a website in the BlackBerry® browser to a new ActionPad memo.
All current BlackBerry® models running BlackBerry® OS 4.2.1 and higher are compatible with ActionPad. This includes but is not limited to the brand new BlackBerry® Curve™ 8900 and 8520, BlackBerry® Bold™, BlackBerry® Pearl™ 8220 Flip™, BlackBerry® Storm™ and BlackBerry® Tour™.
For additional information on ActionPad, please contact S4BB Limited or visit http://www.s4bb.com/software/actionpad/
About S4BB Limited:
S4BB Limited is a Hong Kong-based company, specializing in the development of mobile applications. Its market-leading BlackBerry® products cover nearly all aspects of what is possible on a mobile device. It provides software for the world-wide mobile market, such as games, productivity applications, administration tools, mobile communication products, as well as desktop applications for preparing data for your mobile device.
###