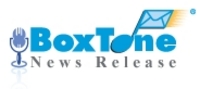 Columbia, MD (PRWEB) July 21, 2009
BoxTone(R), the expert in mobile user management, today announced that Cardiff University -- one of Britain's leading research and teaching universities with 26,000 students and 5,000 staff -- will be headlining tomorrow's BoxTone Webinar on how to create a resilient BlackBerry platform.
Enterprises and agencies in the United Kingdom and across Europe are encouraged to register now. The start time is 11:00 a.m. BST, Wednesday, 22 July.
During this 60-minute complimentary Webinar, Mark Hale, Cardiff University's BlackBerry Technical Services Manager, and the mobile user management experts at BoxTone will discuss what it takes to make your BlackBerry platform truly resilient. Topics covered will include:
1. How to spot and fix activation issues in real time
2. Remote identification and resolution of BlackBerry Enterprise Server issues
3. Making your Help Desk the first and best line of support
4. Improving collaboration amongst the mobility and messaging teams
As an added bonus, all attendees who remain until the conclusion of this Webinar will be eligible to win an Amazon.com 50 GBP Gift Card. To register, go to http://smart.boxtone.com/forms/20090722CardiffLiveWebinar.
About BoxTone
BoxTone software is trusted by more than 200 of the world's leading enterprises and government agencies, including 65 in the Global 2000, to manage, monitor and support their BlackBerry platforms. Built on patented SmartMP(TM) technology and conforming to industry standard ITIL best practices, BoxTone's modular platform and role-specific consoles enable IT and services organizations to proactively improve mobile performance, reduce support costs and accommodate rapid device growth, all while guaranteeing the high quality of service that mobile users demand. Learn more from the expert in mobile user management at http://www.boxtone.com, or call +1 410-910-3344.
BoxTone and the BoxTone logo are trademarks of BoxTone, Inc. The BlackBerry and RIM families of related marks, images and symbols are the exclusive properties and trademarks of Research In Motion Limited. All other product or company names mentioned are used for identification purposes only and may be trademarks of their respective owners.
###