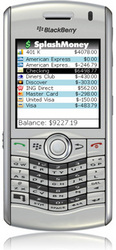 Managing finances on the go has never been more important, with many families using multiple credit cards and checking accounts
Los Gatos, CA (PRWEB) July 9, 2008
SplashData, Inc., the leading provider of productivity software for smartphones, today announced a version of its popular SplashMoney personal finance application for BlackBerry® smartphones. With SplashMoney, BlackBerry users now have the ability to instantly download their most recent banking account activities through a wireless connection and synchronize with a Windows PC.
SplashMoney is a complete personal financial manager for handhelds and desktop computers that allows users to securely record transactions, track account balances, generate reports and budgets, and manage finances while on the go. SplashMoney features a streamlined user interface, charting of financial data, the ability to assign icons to transactions, transaction filtering, and bank account reconciliation. The software supports most account types, including checking, savings, credit card, cash, asset, liability, and money market accounts.
SplashMoney may be used as a stand-alone application on a BlackBerry smartphone or Windows desktop computer, and is optimized for two-way synchronization between the two. Changes made to both mobile and desktop versions will be retained and merged into one up-to-date file upon synchronization, rather than the most recently updated version overwriting the other version.
The security of personal financial data on mobile devices is of chief concern to many, and SplashData has built-in secure password protection using 256-bit Blowfish encryption to protect against malicious hacking or other threats.
"Managing finances on the go has never been more important, with many families using multiple credit cards and checking accounts," said Morgan Slain, SplashData CEO. "SplashMoney makes it easier than ever to get an instant overall picture of your finances and delivers a complete end-to-end financial management solution of unparalleled integration, simplicity and value."
SplashMoney is available now for $29.95 at http://www.splashdata.com. It is also available as part of the SplashWallet Suite, which includes SplashID, SplashPhoto and SplashShopper as well as SplashMoney at a 50% discount. A full-functioning 30-day trial version is also available for download.
About SplashData, Inc.
Founded in 2000 and based in Silicon Valley, California, SplashData is the leading developer of mobile productivity and security software. The company's applications include SplashWallet, SplashID, SplashPhoto, SplashMoney, SplashShopper, SplashTravel, SplashNotes and SplashClock. All of SplashData's products are available for immediate download from http://www.splashdata.com.
SplashShopper, SplashID, SplashPhoto, SplashMoney, SplashClock, and SplashTravel are trademarks of SplashData, Inc. All other company and product names mentioned are used only for identification and may be trademarks or registered trademarks of their respective companies.
The BlackBerry and RIM families of related marks, images and symbols are the exclusive properties and trademarks of Research In Motion Limited. RIM assumes no liability and makes no representation, warranty or guarantee in relation to third party products or services.
###