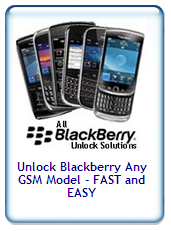 (PRWEB) October 06, 2012
Blackberry is one of the best cell phone manufacturers in the whole world. The company's logo alone is a symbol of class, and people crave for Blackberry mobiles. The company has launched several cell phone series such as Bold, Storm, Pearl, Torch, and the mid-range Curve. The Blackberry Curve series includes numerous models, including touch phones, 3G phones and more. The main problem with Blackberry cell phones is that their services are locked to particular network. GlobalUnlock site now offers unlock service for Blackberry Curve Series available at bit.ly/Sye9Dq.
GlobalUnlock is one of the most trusted unlocking services provider on the web. The company unlocks cell phones made by all companies. Users just need to enter their cell phone manufacturer, model and carrier to get an unlock code along with complete instructions. Most phones get unlocked within an hour after placing an order.
It is backed by a group of dedicated technicians. The company has been in operation since 2003, and has successfully unlocked more than 20,000 phones during this period. Customers are given VIP treatment by the company. Any queries regarding cell phone unlocking are properly answered by company officials, and email privacy is maintained. Another attractive thing about this company is its Better Business Bureau membership, and not to forget it is the only unlocking company to have accreditation from BBB.
Here are some of the Blackberry Curve phone models:
1. Early series

2. BlackBerry 7 series

9220/9310/9320
9350/9360/9370
9380 Series
People interested to unlock Blackberry Curve service can go to GlobalUnlock as they don't just provide unlocking services, but they also educate clients. Customers can learn the numerous benefits of getting their phone unlocked by asking queries, or visiting the company's official blog. Unlocking codes provided by the company fully unlocks cell phones. The unlocked phone can be used on any network. In case the unlock code doesn't work, customers get a 100% refund.
More information about Blackberry unlock service available at http://bit.ly/Sye9Dq.