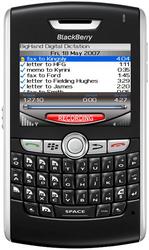 the most outstanding application of information technology to the law
Chicago, IL (PRWEB) October 1, 2007
BigHand, the Microsoft Gold Partner specializing in voice productivity, yesterday released a new 'Mobility Suite' at its Annual User Conference 07. The new BigHand3 Mobility Suite provides clients with a bundle of four instant mobility tools that enable networked digital dictation while out of the office: BlackBerry dictation, EmailGateway, Telephony dictation, and Web client.
The BigHand Mobility Suite allows lawyers to immediately connect to their dictation workflow software in the office regardless of where they may be, or the connection type available. Document turnaround times are significantly enhanced through this added flexibility. Furthermore the suite potentially removes the need for every user to carry specialist dictation hardware, and provides an additional cost benefit for the firm. The Mobility Suite contains:
BlackBerry dictation -- allows users using BlackBerry operating system 4.2 (or 4.2.1 on the 8700) to record, edit and playback digital dictations on their BlackBerry smartphone and immediately upload them wirelessly into their BigHand3 Server for flexible workflow routing and office-based completion or transcription. Both BlackBerry Enterprise Server and BlackBerry Internet Service architectures are supported
EmailGateway -- enables automated submission of audio recordings as email attachments into the digital dictation system from email systems such as Hotmail or Gmail. The user just requires a computer that has an internet connection, with no need for any BigHand client software. EmailGateway can also be used with Windows Mobile
Telephony dictation -- each lawyer has a personal number and login that allows them to call in dictations via a fixed line or their mobile/cell phone. These voice recordings are automatically routed to the correct assistant and tracked/managed within the workflow management system
Web client -- users can upload voice recordings into the office workflow and review work-in- progress via a normal internet browser or via Windows Mobile.
Director of IT at Lewis Silkin, Jan Durant, commented: "We have implemented the BigHand BlackBerry client with a group of our lawyers and found that the productivity enhancement from the instant delivery of dictations back into the office workflow is a major benefit. As we were one of the earliest firms to install the software the input of our lawyers has gone directly back into its ongoing development -- for example, we have helped suggest and refine some advanced features that will help users who produce a large amount of dictation. That way the transition away from a professional recording device is easier, and convergence to a BlackBerry becomes more of an option for the firm as a whole. We were delighted to work so closely with BigHand on what seems to be a 'first' for the digital dictation market."
Victoria Cumming, IT Manager at Bentleys Stokes & Lowless, added: "We were one of BigHand's very first digital dictation users back in 2001, and given the benefit that their software has provided the firm over that period we were more than happy to also be an early mover onto BlackBerry Dictation. Our lawyers have found being able to dictate on a BlackBerry extremely valuable, enabling a much faster turnaround on work recorded when out of the office, and the firm is set to realize savings when we no longer have to supply each person with two devices for remote working."
Steve Butterworth, CEO & President of BigHand, Inc describes: "Mobility is an area we are seeing law firms increasingly focus on, with our voice tools enabling greater connectivity and expediting document production while on the move. Turning your BlackBerry into a dictation device will also save law firm budgets as lawyers will not need to carry two devices for out of the office dictation. But most importantly, due to the immediate transfer of voice back to the office, legal documents are being provided to clients quicker than ever. Together with the other mobility tools in the BigHand suite, such as EmailGateway, our clients are set for a new level of 'on-the-go' productivity."
For more information on BigHand Digital Dictation software visit: http://www.bighand.com/digitaldictation/bighandsoftwareoverview.html
About BigHand:
A Microsoft Gold Partner based out of Chicago, London and Sydney BigHand is the leading digital dictation vendor in the global professional services sector, maintaining the five largest sites at international law firms and with more legal installations in total than all other suppliers combined. BigHand3 was nominated as "Best of Breed System of the Year" at the Legal Technology Awards 2007. BigHand was named as the fastest growing legal software developer in The Sunday Times Microsoft Tech Track 100 league tables for both 2006 and 2005. BigHand was also recognized by Deloitte as one of the 500 fastest growing software vendors in Europe in 2006. Additionally BigHand was voted "Best Legal Office Technology System 2004" from votes from over 14,000 lawyers and IT managers across the legal sector at the LOTIE Awards. BigHand's leading product also won the Society for Computers & Law IT Award in 2003 for "the most outstanding application of information technology to the law". Further information is available at http://www.bighand.com
BigHand is a BlackBerry ISV Partner. The BlackBerry and RIM families of related marks, images and symbols are the exclusive properties of and trademarks or registered trademarks of Research In Motion Limited - used by permission.
###