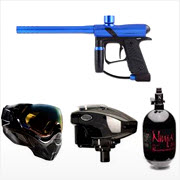 "We're really seeing fans get excited... People are comfortable shopping with us because we are who we say we are."
Chicago, IL (PRWEB) December 10, 2011
Blackbox Paintball, an offshoot of ecommerce company Roothouse Inc, is offering a holiday campaign to help paintball enthusiasts win their wishlist. Visitors to the Blackbox paintball website can signup and create a wishlist of their most coveted paintball guns, accessories and paintball clothing and win up to $450 worth of their favorite paintball gear.
"We have been in the paintball business for over 12 years, and we're really seeing fans get excited about this wishlist promotion," Rick Harold, part-owner of Roothouse Inc. said.
By signing onto the Blackbox Paintball website and selecting their favorite paintball guns and accessories, visitors are automatically registered to win their wishlist, with drawings every Friday through December 16th, 2011.
Blackbox is promoting their 'Win Your Wishlist' campaign on the Blackbox Paintball Facebook page. "The Blackbox site has only been up for a few weeks, but already we have more than 1,800 Facebook followers," Harold said.
An offshoot of other successful ecommerce sites owned by Roothouse Inc. such as Calsport.com, a hunting, fishing, and outdoor gear site, and TailsandThings.com, a pet shopping site, Blackbox Paintball offers everything both a paintball fanatic and a paintball novice would need to enjoy the sport.
"We have people buying a starter kit with Tippmann guns, or Spyder guns, and then we have those who are diehard fans who will purchase one of our bigger guns for $1,400 or so," Harold said.
Trading on their decades of ecommerce and paintball experience, the owners of Blackbox Paintball are looking forward to providing their most excited customers with the equipment they want. "People are really comfortable shopping with us because we are who we say we are."
Blackbox is offering Free Ground Shipping on all orders (excludes paintballs) through the end of the year (see website for details) and offering paintball team sponsorships for the 2012 season.
To learn more contact Rick Harold at 888-746-0420.
###