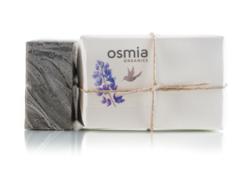 Perioral dermatitis doesn't like heavy creams or oil-based serums. It wants simple products that won't irritate the skin.
Carbondale, CO (PRWEB) January 31, 2013
Black clay from Australia and dead sea mud are the key active ingredients behind Osmia Organics's new organic Black Clay Facial Soap. Working together to balance and tone the skin, the black clay and dead sea mud provide a mild reparative effect, and can often be used as part of a skin care program for problem skin. Specifically, the soap can help settle down angry skin conditions like acne, eczema, and perioral dermatitis, a common condition in women of reproductive age. Perioral dermatitis manifests on the face, around the chin and mouth, and looks like a cross between acne and eczema. In mild cases, perioral dermatitis (or PD) consists of patches of slightly bumpy, red or irritated looking skin, often with flaking. In more severe cases of PD, the skin can become highly inflamed, with flakes or scabs that can bleed or become infected.
Dr. Villafranco formulated the soap in an effort to create a product that would not exacerbate her own symptoms of PD. During her research, Dr. Villafranco came to the conclusion that, with perioral dermatitis, a less-is-more approach was best. This simple, mildly astringent soap, in combination with a gel-based serum, and a mild face cream, helped her symptoms resolve naturally. Dr. Villafranco states "Perioral dermatitis doesn't like heavy creams or oil-based serums. It wants simple products that won't irritate the skin."
Osmia's Black Clay Facial Soap also contains organic almond, avocado and castor bean oils to condition and moisturize the face. It does not leave skin dry or tight, partly due to the inclusion of organic coconut milk, which helps create a rich, all-natural, white lather. The soap works extremely well for normal, combination, acne-prone, or problem skin. It may not be ideal for extremely sensitive skin, as the Dead Sea mud can cause a mild, tingling sensation, due to its astringent effect.
For more information about perioral dermatitis (its causes, symptoms, and natural or conventional treatment options), or to purchase Osmia's Black Clay Facial Soap, visit
http://www.OsmiaOrganics.com.
About Osmia Organics
Founded in 2012 by Dr. Sarah Villafranco, a physician with a passion for potions, Osmia Organics is a full line of luxury, natural skin care and beauty products. The products are all handmade, in small batches, in the picturesque, mountain town of Carbondale, Colorado. Dr. Villafranco developed the organic skin care recipes in an effort to bridge the gap between the obsessively natural products she wanted to use on herself and the luxury products that all women crave. Best-selling items include the natural soaps, face serums, and organic bath milk.