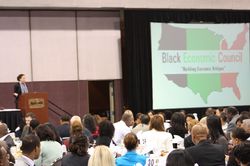 It's time to huddle up, share best practices, expert perspectives and provide attendees real solutions and information in tough times.
Oakland, CA (PRWEB) October 13, 2009
The Black Economic Council (BEC) is hosting their 4th Annual Urban Economic Conference, October 15, 2009 at the Oakland Marriott City Center, 1001 Broadway, in Oakland, California. The theme of this year's conference is Economic Recovery - Opening New Markets and will provide information that will assist consumers with credit management and strategies to restore credit ratings negatively impacted by the downturned economy.
"The Urban Economic Conference is more critical now than ever due to the challenging circumstances impacting the black community due to the recession," said Andree Driskell, Vice President of Community Relations and Program Development for the BEC. "It's time to huddle up, share best practices, expert perspectives and provide attendees real solutions and information in tough times."
In it's 4th year, the conference has a value filled agenda with speakers from the banking industry with specialties in micro-lending, Small Business Administration (SBA) lending, financial planning, tax experts and a personal development session on networking. Susan RoAne, best selling author of "How to Work a Room" will deliver the keynote address on mastering networking techniques.
Additional speakers at the Urban Economic Conference include:
Janet Lamkin, President Bank of America California (Keynote Speaker)
Susan RoAne, Best Selling Author on Networking
Cheryl Evans, Western Region Director Citibank Community Relations
Sandra L. Thompson, FDIC Director of Supervision and Consumer Protection
Don Kincey, Vice President Comerica Bank
Ortensia Lopez, Executive Director--El Concilio San Mateo County
Andree Driskell, VP Black Economic Council Community Relations Program Management
Jeffery Cheung, President and CEO--OneCalifornia Bank
Cheryl Broussard, Entrepreneur / Author
Edward Cates, CEO and Managing Partner - Nuance Marketing
Kathleen Pender, SF Chronicle Business Columnist
Orson Aguila, Executive Director--Greenlining Institute
Thalia Gonzalez, Assistant Professor Occidental College
Claudia Viek, CEO CAMEO
Robert Gnaizda, Consultant Black Economic Council
Julia Abrams, CEO Women's Initiative for Self Employment (WISE)
Beverly Correa, Managing Director--Oakland Business Development Agency
Karuna Jaggar, Executive Director--WISE
Brenda Gambardella, Assistant District Director--Small Business Administration (SBA)
Linda Marie Marmolejo, Regional Director Minority Business Development Agency (MBDA)
Brenda Wright, Regional Manager SVP California Community Development Wells Fargo
Andrew Lisac, Vice President Market Development Bank of America
Jenny C. Flores, Vice President Community Relations Citibank
"Our mission at the BEC is based in supporting self sufficiency, economic empowerment and inclusion for the black community," adds Len Canty, Founder of the Black Economic Council. Whether it's a business owner, management employee, blue-collar or displaced worker through the economic downturn, our conference is designed to help and we hope the community will join us."
Space is limited for the conference. Register online today by visiting the Black Economic Council Website. Follow the Black Economic Council on Twitter.
The BEC's 4th Annual Urban Economic Conference is possible through partnerships and the support of companies such as Wells Fargo, AT&T, Comerica Bank, Citibank, Verizon, Bank of America, Bank of the West, HSBC and Pacific Gas and Electric Company.
The Black Economic Council is a national 501(c)(3) non-profit organization established to provide African Americans an economic platform that facilitates business formation, job creation, access to capital, affordable housing, financial literacy, and equal opportunity for employment in the workforce.
For additional media inquiries contact:
Edward Cates
Nuance Marketing
404.551.3305
###