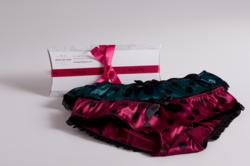 People love the simplicity of ordering a thoughtful and unique gift, from the convenience and comfort of their home," says Natalie Grunberg, head mistress of Panty of Post. "Men especially are delighted to learn of this fast, easy and cost-effective gift.
(PRWEB) October 17, 2011
Why bother running around on Black Friday along with thousands of others searching for deals and that perfect gift to fill that holiday gift giving list? Just sit back with a nice cup of coffee or a cocktail and order online at PantybyPost.com for everyone on that list. Rated Best of the Web in InStyle magazine and featured on Daily Candy.
Panty by Post is a monthly subscription service that sends a French panty in the mail. There are many styles to choose from and two different lines. It's simple and convenient to use, go to http://www.pantybypost.com, select the duration of the package (1X, 3X, 6X or all year long, 12X), the style (thong, bikini, hipster or mix) and size (we carry XS to XXXL). We ship worldwide.
Price Range: $30 for a single panty to $198 ($16.50 each) for a panty a month for a year.
Deals: Please contact Natalie Grunberg to set up a sweet deal for your readers. For example, InStyle readers received 20% off their orders.
Site: http://pantybypost.com/
Order Page: [http://www.pantybypost.com/shop/
Sample for Review: Available upon request.
For more information or to arrange an interview:
Natalie Grunberg, Founder
Direct line: 604-307-9642, Toll free from Canada or USA: 1-888-707-2659
Email: natalie(at)pantybypost(dot)com
Image requests: High resolution images of our logo, products and look book fashion shots can be obtained by emailing natalie(at)pantybypost(dot)com.
Worldwide delivery | All currencies Accepted
###