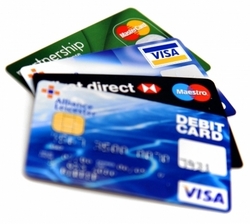 "Debit Card's aren't much different from carrying cash wherever you go-so you need to be careful"-Carrie Coghill Kuntz, CreditFYI Spokesperson
Norwalk, CT (PRWEB) November 6, 2009
The most recent consumer credit report shows credit card debt declining for a record 12th straight month. At the same time, debit card transactions recently surpassed credit card transactions for the first time ever. With Black Friday quickly approaching, trends suggest consumers will be turning to their debit cards to pay for holiday purchases, perhaps because they believe debit cards are a safe, easy way to keep from carrying cash while also avoiding credit card interest rates.
However, according to Carrie Coghill Kuntz, spokesperson for CreditFYI.com, "Debit cards aren't much different from carrying cash wherever you go — so you need to be careful." Her do's and don'ts for safe shopping this Black Friday — and beyond — include:
1. Don't expect mistaken debit-card purchases to be refunded immediately.
Debit card purchases fall under Federal Reserve Board Regulation E, which makes them instantaneous transactions with third parties. Therefore, you won't receive any money back from a mistaken transaction until after the dispute is resolved.
2. Don't use your debit card for online purchases — ever.
Using a debit card is like wiring instant cash to the online retailer. If you accidentally buy too many items or make some other mistake on your order, in most instances, you can be out of luck.
3. Don't think the bank will closely monitor your debit card activity.
The bank is only holding your money, not backing a line of credit, so there's little incentive for the bank to monitor debit transactions. Because the bank isn't your partner, the monitoring responsibility falls squarely on you.
4. Don't delay in reporting fraudulent activity.
If you wait more than two business days to report fraudulent activity, your personal consumer liability could reach $500.
5. Do use credit cards instead of debit cards.
Using a credit card allows you to resolve disputed transactions before payment is made. Plus, banks will monitor suspicious credit card activity and resolve any disputes you have quickly, and you don't have to worry about annoying overdraft fees or unexpected bill payment issues.
6. Do use cash or checks when not using a credit card.
This is a much safer way to conduct transactions. With cash or checks, there are fewer ways for an individual to steal your debit card number or accidentally double-swipe your card.
7. Do maintain multiple accounts.
Because your account can be drained for a sustained period while you try to resolve debit card disputes, you could be hit by a cascading effect of overdraft fees and an inability to pay off other creditors. With multiple accounts, you can easily transfer funds to avoid overdraft fees and still have money left to pay your bills.
8. Do pay your credit card bills on time.
While a debit card is less secure than a credit card, you can still harm your credit if you aren't responsible about your spending. Make certain you don't spend more than you have in your checking account.
9. Do be wary of discount credit card deals.
Discount offers to open up a credit card when you're checking out at a retailer can be enticing. But even if you plan on paying off the credit card or not using it, a new card means a pulled credit report, and too many inquiries to your credit report can be damaging.
10. Do check your credit score.
Before you go shopping, make sure you know the scores — your credit scores. As a start, you can always go to annualcreditreport.com to order free credit reports from each bureau once every twelve months. But those free credit reports don't include your credit scores; you'll need to pay to see your credit scores. If you're trying to manage your scores, or if you're considering large purchases during the year, it's best to have a service like FreeScore.com, which offers you regular access to your credit scores on an ongoing basis.
"Consumers are trying to keep their credit card balances low," Ms. Coghill Kuntz says, "so many are using debit cards. With retailers trying to ring the register at a record rate on Black Friday, it's a good time to keep your debit card at home. On that day, and throughout the holiday season, leaving the debit card at home can save you headaches later on."
About CreditFYI.com
CreditFYI.com informs and educates consumers on a wide range of credit and debt issues, personal finance topics and identity fraud concerns. Designed to empower consumers to take charge of their household finances, CreditFYI distills the often-complex financial issues that affect consumers' daily lives into informative, easily-understood content that helps consumers make informed decisions and improve their money management skills. For more information, please visit http://www.creditfyi.com.
###