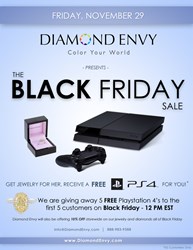 It's the biggest His-and-Hers deal this holiday season!
New York (PRWEB) November 26, 2013
This Black Friday, Diamond Envy will be giving away a free PlayStation 4 to five lucky customers as well as slashing prices 10% storewide. The first five customers to buy a piece of jewelry from DiamondEnvy.com after 12:00 PM EST on November 29th will also receive a free PS4! It's the biggest His-and-Hers deal this holiday season!
Sony sold over 1 million PS4 consoles the first day it was launched. Now sold out everywhere—online and in stores—it has become the most unattainable Christmas gift this year. But Diamond Envy doesn't want you to stress about it. Sleep late, stay in your PJ's, and still beat out everyone else for Best Gifter this year. Be one of the first five customers to buy earrings, a pendant, an engagement ring, or any other piece of jewelry for sale on our site and get a PS4 with your order. Retail value is $399.99—if you can find it.
"Here at Diamond Envy, we know the pain entailed in opening your wallet for big ticket items over and over when buying gifts," says Evan Guttman in Marketing. "That's why you deserve to gift yourself this holiday with a PS4 for all the work you have done. And ladies, we didn't forget about you. With this offer, you can buy jewelry you know you'll love for yourself and call that the freebie when you give the PS4 to your man. Imagine his delight when he sees how thoughtful you were by getting this season's blockbuster gift for him. The holidays are all about giving!"
For those already planning to buy their wives, girlfriends, daughters, mothers, fiancées, aunts, cousins, or mistresses diamond jewelry, this is it. This is the deal of the year. For those who had to compromise ("Okay, honey, you can have the big ticket item this year and I'll wait until next year for a piece of jewelry") there's no need for compromise anymore—not now that you can buy one gift and get the other.
Even those who miss out on the five PS4's will have something exciting to talk about. Diamond Envy will also be offering 10% off storewide on our jewelry and diamonds starting Black Friday and continuing until December 15th. Buy any loose diamond or piece of jewelry on the site and save 10%. Shipping and returns are always free with every Diamond Envy purchase.
Offer is open to all residents of the contiguous United States (excludes Alaska and Hawaii). Our usual 60 day return policy does not apply to winners of this offer. Instead, returns on qualified orders will only be available for seven days. The PS4 must be returned with the order sealed and in its original packaging for the refund to be issued otherwise only store credit will be issued.
About Diamond Envy
Diamond Envy was launched in 2013 to bring colored diamonds to retail customers at wholesale prices. For 15 years we've worked in New York's famed Diamond District as diamond manufacturers—sourcing rough diamonds from ethical, conflict-free suppliers, cutting and manufacturing them into their polished state, and selling them to the wholesale market. Now we want to share our high quality inventory directly with you. Diamond Envy is a new concept in diamond e-commerce: a curated source of the best certified fancy color diamonds and jewelry at wholesale prices made available to you, a resource even more valuable to us than diamonds: our clients.
We pride ourselves on our friendly and available customer service. Think of us as your jewelry concierge—available to you in whatever capacity you need, whether as a design liaison, gemology educator, or a hand to hold through your first jewelry purchase. Call us, email us, or chat with us when we're online. It's our job to be available to you throughout the buying process to ensure your full satisfaction. Our toll-free number is 888-983-9588 and we will be available on Black Friday from 9:00 AM EST- 5:00 PM EST.