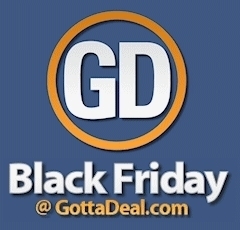 Milwaukee, WI (PRWEB) November 18, 2010
GottaDeal.com, the web's oldest and most popular Black Friday site, has once again posted advance copies of every major national retailer's Black Friday sale, providing a wealth of knowledge and information to shoppers as they make their plans for Black Friday, Cyber Monday and beyond.
GottaDeal.com has been covering Black Friday extensively since 2003, well before the term 'Black Friday' became part of the social lexicon. Each year, the site obtains leaked copies of retailers' Black Friday sale advertisements and posts them on the site for shoppers to peruse. Millions of visitors use the site each year to create a plan of attack for their Black Friday shopping.
This year the site has posted advance looks at the Black Friday ads from retailers such as Walmart, Target, Best Buy, Toys R Us, Sears, Kmart, Kohl's and well over 40 other national and regional retailers and online commerce sites.
In the coming days, the site will launch a section of the site dedicated to online Black Friday shopping, providing exclusive tools for those shoppers who wish to do their Black Friday shopping from the comfort of their home. These shopping tools will let visitors know which items they can order online at the sale prices, as well as information on Black Friday sales from online-only retailers such as Amazon.com, Buy.com, Overstock.com and many others.
Brad Olson, the owner of GottaDeal.com, explains the allure of the site is in the sheer amount of information available and how the site has grown over the years. "In the past, consumers got their newspaper on Thanksgiving and had a few hours on a busy day to look at the ads. Now thanks to GottaDeal.com, they have weeks to browse the ads, do research, compare prices and form the best strategy for their shopping goals for the year."
Mr. Olson goes on to say, "The site is growing each year it's been open. The attention we've received from consumers, retailers and the media has been amazing. They all realize that we provide consumers with the advantage they need to get the best deals, whether that be online or in their local stores. We've developed a true community here which I'm very proud of."
The site offers consumer-oriented tools including an e-mail alert system, where visitors can be notified every time a new Black Friday sale ad is posted. The site also features a complete history of Black Friday, a set of frequently asked questions, as well as a popular shopping list feature which allows visitors to create and save a list of items from all the various Black Friday ads. They can add or remove items as new ads are posted, add personal notes such as if the item is a gift, and print or send their list to family & friends.
Perhaps the most popular part of the site is the set of Black Friday message boards, which are the largest and most active year after year. Tens of thousands of diehard Black Friday shoppers come together each year to discuss the leaked sale ads, post rumors of future sales, make predictions, share their experiences from previous years and much more. Visitors to the message boards are often surprised to find so many of their fellow consumers who are also crazy about Black Friday shopping.
The message boards also serve as the location for many contests and giveaways, where site visitors can win special Black Friday t-shirts and other valuable prizes. Mr. Olson says that he sees the same people on the boards each year. "We have members who have been with us every year since we started. It's almost like a family reunion each fall when the Black Friday boards open and everyone comes back and checks in with each other."
As online shopping has become a more integral part of the holiday shopping experience, GottaDeal.com has given it even more coverage on the Black Friday site. New this year is a "Deal Sidebar" on the right side of the home page which shows online coupons, limited time deals of the day as well as the most popular deals of that day, updated in real time.
GottaDeal.com is dedicated to save consumers money in all aspects of their daily lives. In addition to a year-round online deals site and a large, active community forum, each year GottaDeal.com has a dedicated Black Friday site focused on providing advanced looks at the Black Friday sale ads from national retailers as well as the hottest online holiday sales.
GottaDeal.com has been covered by hundreds of national and local media outlets, including USA Today, The New York Times, The Washington Post, TIME Magazine, CNN.com, The Wall Street Journal, The CBS Early Show and many others. Media kits are available, as are interviews. For more information on Black Friday or online shopping, or to schedule an interview with someone at GottaDeal.com, please visit Black Friday @ GottaDeal.com or e-mail media(at)gottadeal(dot)com.
# # #