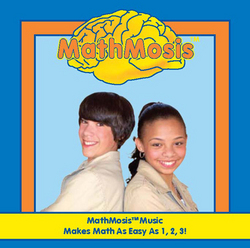 MathMosis provides children with the love of math by combining it with fun activities they love
New Baltimore, MI (Vocus) November 17, 2010
This holiday season, give the children and teachers in your life the lifetime gift of knowledge and learning with MathMosis products. MathMosis products are fun learning tools that help educate children in math using music, movement, games and play.
"MathMosis provides children with the love of math by combining it with fun activities they love," said Jennifer Tuttle with Brain Party, creator of the MathMosis program. "The gift of knowledge and learning makes a great holiday gift for children."
With MathMosis, children as young as preschool can develop a strong foundation in multiplication and division as well as learning their numbers.
"Children have so much fun with MathMosis that they don't even realize that they are learning as they play and sing," Tuttle said. "We make math very interactive and fun to keep the attention of the youngest child."
Not only is the MathMosis program a great holiday gift for children, but it is invaluable for homeschooling families and is a great gift for a teacher to use in their classroom.
"Teachers can easily incorporate the MathMosis program into their classroom lessons," Tuttle said. "It's very important this holiday season not to forget the teachers in your life that can use this tool to make a difference to potentially hundreds of children in the community."
Best of all, the program not only is very effective in helping children learn math, but it is also very affordable. The MathMosis CD is available for only $19.95 and the MathMosis Mania Game and Charts is only $29.95. Both items are available on the Brain Party website at http://www.mathmosis.com or through major online retailers such as Amazon.
Brain Party, Inc., is offering a special Black Friday deal exclusively on Amazon. Buy a MathMosis Music CD for the child in your life and get one free for you child's classroom. To receive the special offer, please use the special code MMBLKFRI at checkout. Promotion begins on Thursday, November 25, 2010 at 9:00 p.m. PST and ends on Friday, November 26, 2010 at 11:59 p.m. PST (restrictions apply).
For more information about MathMosis, or to order the program for a teacher or child in your life, please check out their website at http://www.mathmosis.com.
MEDIA CONTACT:
Jennifer Tuttle
Brain Party, Inc.
###