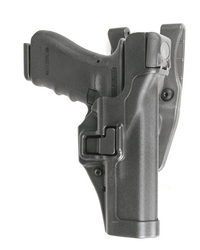 Along with the performance of the holster, our US based manufacturing was a critical component to this selection
Norfolk, VA (Vocus) December 4, 2009
BLACKHAWK! Products Group™, the world leader in manufacturing tactical gear for military, law enforcement, industrial security and outdoor markets has been awarded a multi-year, multi-million dollar holster contact for the Colombian National Police.
"After completing rigorous performance and functionality test, the Colombian National Police have selected the SERPA Level III Duty Holster, for the SIG SAUER SP2002 pistol, addressing the challenges and needs of the 21st Century," stated Lt. Colonel Alexander Tapiero, Director of Armament of the Colombian National Police. "In the tests conducted by the Armament Group, the superior quality and technological advancement that are incorporated in the SERPA Level III holster were verified as the best integral solution for the varied scenarios and security challenges that the Colombian National Police face," concluded Lt. Colonel Tapiero.
The award winning SERPA auto retention holster combines an intuitive drawing motion when presenting the weapon with automatic engagement of the locking mechanism upon re-holstering for increased security. The holster is available in Concealment, Duty, Level II and Level III retention models. Mounting platforms include a traditional belt mount, paddle, drop leg platform, shoulder rig and a MOLLE chest mount. Critical to all agencies, training efficiency is achieved through the commonality of training across all models of the SERPA holster.
"Along with the performance of the holster, our US based manufacturing was a critical component to this selection," states Terry Naughton, Vice President of Marketing for BLACKHAWK! "This capability not only gave us the ability to meet the required delivery time frames but allows us to act quickly if the implementation schedule is accelerated."
"The SERPA technology was recently adopted by the US Special Operations community and we are seeing agency adoptions like this one continue on a large scale basis worldwide. To support this growth we have made tremendous investments in both equipment and people at our Bozeman, Montana manufacturing facility. These investments have made it possible to be successful in large awards like this one without disrupting the normal production schedule that supports the remainder of our distribution base," stated Mike Noell, President and Chief Executive Officer of BLACKHAWK!.
About BLACKHAWK!®:
BLACKHAWK! Products Group™, founded in 1993 by President and CEO Mike Noell, is a leading US manufacturer of tactical, military, shooting sports and law enforcement equipment. BLACKHAWK! is a global manufacturer of tactical gear, body armor, law enforcement duty gear, holsters, hydration systems, protective gloves and gear, apparel and footwear, knives, illumination tools, breaching tools, hunting gear, and recoil reducing stocks. BLACKHAWK! headquarters is in Norfolk, Virginia, with US manufacturing facilities in North Carolina, Montana, and Idaho. For more information on BLACKHAWK! and BLACKHAWK! products, log on to http://www.BLACKHAWK.com or call 800-694-5263.
Please contact Laura Burgess at 603-436-1748 for Hi-Res images
# # #