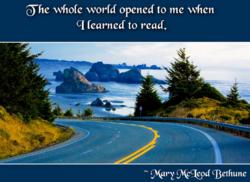 Patients tell me they love sitting in our waiting room now. Any doctor would tell you that comment is exceptional."
- Dr. Stephen Ward
Long Beach, CA (PRWEB) February 09, 2012
Every month is Black History month at Ward Chiropractic. The waiting room features a screensaver slideshow with beautiful photography and powerful, inspirational quotes from leaders of black history, both men & women. Patients are enthralled by the images. They read every caption. "Our patients have sat in a lot of doctors' waiting rooms, but they're blown away by ours. They've never seen anything like this!" says Dr. Stephen Ward.
At Ward Chiropractic, the #1 patient problem was stress. Dr. Ward wondered, "How can we help reduce patients' physical, emotional & mental stress before treatment? How can we help them feel positive about life? What tools can we give children in the waiting room to brighten their day and help them be optimistic about their future?"
Solution: Screensaver presentations in the Ward Chiropractic waiting room now feature inspirational words of historical black leaders against a backdrop of beautiful scenic nature photography. Dr. Ward says of his patients, "They stop worrying about their body now. They don't stress over what will happen in treatment. They come in more open, ready to make a breakthrough in their health and their life. The slideshow moves patients from fear to a joyful, inspired outlook."
"Patients love sitting in our waiting room now," continues Dr. Ward. "They say they don't mind waiting at all. Any doctor would tell you that comment is exceptional." When patients have to wait, they can get really aggravated. But at Ward Chiropractic, some patients don't even leave when treatment ends. They sit back down in the waiting room to watch more slides," says Dr. Ward, "I sifted through thousands of quotations for the most inspirational, outlook-changing words to give patients a powerful life experience. Then I licensed the work of 2 photographers who traveled the world taking some of the most unforgettable pictures you'll ever see."
Dr. Ward considers every mind a battlefield; if a patient lowers their guard for a moment, bad thoughts can creep in. But everyone has a divine right to be positive, joyful, and happy. These great leaders, powerful black men & women from history, help focus the mind on good outcomes, and that positive focus can help relieve stress and fear.
Ward Chiropractic also announces the general release of 25 of the most inspirational, spectacular, and empowering black history quotation slides (complementary book available at http://BlackHistoryInspires.com). For more information, contact Dr. Stephen Ward at 1-888-774-6251 or drsteve(at)chiroman(dot)com.
###