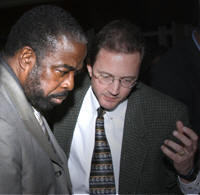 African American History is too rich for just one month
Severn, MD (PRWEB) January 25, 2010
Over the past decade, Joel Freeman has combined his entrepreneurial skills and love for history to develop The Freeman Institute® Black History Collection. The collection is currently comprised of over 3,000 authentic documents and artifacts (oldest piece dated 1553) that communicate a story of creativity, inventiveness and perseverance.
When Freeman makes Black History Month presentations at government agencies, corporations, educational institutions and faith-based organizations he generally brings 20-30 pieces from his collection to form a small portable exhibit for each event. Raised in a small Canadian town, Freeman also showcases some of the more compelling pieces when interviewed by the media about his passion for African American History.
Joel Freeman has a dream -- to help establish Black History galleries (minimum 2,000 sq.ft.) in major cities across America. "African American History is too rich for just one month," he states. "I want each of these galleries to educate and inspire young people of all ages, all year round." The strategic business plan and economic viability study are complete and he is now ready to launch the vision in 2010 - http://www.BlackHistoryTreasures.com
"When studying Black History, both Afrocentrism and Eurocentrism provide excellent documentation to support their respective views. But the more one researches, the more one realizes that both disciplines also have some pretty crazy/fringe stuff that isn't corroborated by original sources. I'd rather use the term: Truthcentric, hopefully providing more light than heat," states Dr. Joel A. Freeman. A message that transcends race.
Some examples from Freeman's extensive collection:
1) The authentic Samuel Goldwyn Productions check paid to Pearl Bailey (and signed by her) for her part in the movie, Porgy and Bess.
2) A 4-page letter hand-written and signed by the famous British abolitionist, William Wilberforce.
3) A 1553 Peruvian document hand-written in Old Spanish discussing the sale of Cristobal, a slave from Mozambique.
4) Bob "Showboat" Hall's official Harlem Globetrotter travel bag.
5) Authentic 50-pound slave ball from the Henrietta Marie, the oldest recorded slave ship wreck in the world (summer, 1700).
6) The acetate 78 rpm test pressing of Louis Armstrong's first recorded vocal performance in 1926 -- Georgia Grind.
7) Nine original bottles of Madam C.J. Walker's perfume (Carnation, Gardenia and Wisteria).
8) Original program (ca.1867) of Blind Tom's piano performances in London and Paris.
9) and much more...
As the author of the DVD presentation, A White Man's Journey Into Black History," Freeman states, "Each gallery will also have a wall dedicated to some of the White abolitionists who sacrificed their lives for the anti-slavery cause."
Joel co-created (with Don Griffin), the award-winning film, Return To Glory: The Powerful Stirring of the Black Man, which has been subtitled in English, French, Portuguese and Spanish. The objective is to show the 45-minute film in every gallery -- every hour on the hour -- in the language specific to each region.
Dr. Freeman is available to talk with any organization interested in establishing a Black History gallery as an outreach to their local community.
DR. JOEL A. FREEMAN
As the veteran mentor/chaplain for the NBA Washington Bullets/Wizards for 19 years ('79-'98), award-winning film maker, serial entrepreneur, and prolific author, Dr. Freeman has been working on this project for over fifteen years. Freeman is available to make highly visual, educational and inspirational Black History presentations and also unique presentations about the historical & contemporary significance of the famous Rosetta stone.
BIO: Joel A. Freeman
MEDIA CONTACT:
Joel A. Freeman, Ph.D., Box 305, Gambrills, MD 21054
Office: 410-729-4011
Fax: 410-729-0353
Websites:
The Freedom Institute Foundation
Rosetta Stone Replicas
# # #