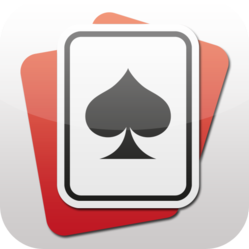 players that train on basic blackjack strategy can win much more often over the long-term
Arlington, Virginia (PRWEB) September 18, 2012
Simplicent, LLC announces today that its popular blackjack trainer, Learn Pro Blackjack, is now available for the iPhone and iPad. The app makes it even easier for players the world over to learn basic strategy and improve their odds of success.
With the new app, users are trained with innovative functionality across three learning modules designed to help them improve their skills. In the first module players are taught to memorize the rules of basic strategy with virtual flashcards. The flashcards define statistically correct moves that a player should make on any given set of hands and are easier to use than traditional strategy charts. For the second module, users are able to practice what they memorized from the cards with a blackjack simulation that presents real-world scenarios and tests the percentage of the time users answer the correct strategic move. In the third module players are given a list of hints and tips that detail how they can limit their funds burn rate and enjoy the game to its fullest.
In addition to core strategy education, the app has robust, built-in setup options. Las Vegas and Atlantic City style game types are supported as is the ability to turn on or off late surrender. Detailed rules to blackjack are also included for those that need to learn the basics on the go.
Learn Pro Blackjack is an excellent tool for both new and veteran players as each module can be used to refresh and test existing knowledge, or train strategy from scratch. Additionally, the app is perfect for the last-minute traveler and anyone that needs access to educational materials on the go. Since it is downloadable on-demand it is also excellent for those that find themselves needing last-minute advice before going to the casino.
According to Simplicent, LLC the product fits the company's mission perfectly as it is a simple solution that has the potential to significantly improve the financials of its users. It says that "players that train on basic strategy can win much more often over the long-term" and that "players who don't know the strategy are risking more than they should."
For those wishing to download the trainer, it is available directly from iTunes and the App Store.
The Learn Pro Blackjack app was built by Canterbury, UK mobile app development and consulting company, Rectangular Software Ltd.