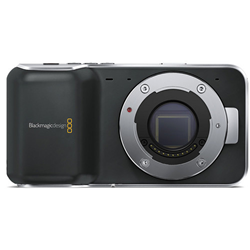 Blackmagic Design Announces the Blackmagic Pocket Cinema Camera—Now Available for Pre-Order at B&H Photo Video
NYC, NY (PRWEB) April 08, 2013
Blackmagic Design announced the Blackmagic Pocket Cinema Camera, a beautifully designed, pocket sized digital cinema camera that includes powerful features such as Super 16mm sized 1080HD sensor, super wide 13 stops of dynamic range, built in SD card recorder for
Apple ProRes, lossless compressed CinemaDNG RAW capture and active Micro Four Thirds lens mount, all in an attractive compact design.
Product Highlights

Super 16mm Sized Image Sensor
Active Micro Four Thirds Lens Mount
13 Stops of Dynamic Range
Records Full HD 1080 CinemaDNG RAW
Apple ProRes 422 (HQ) at 220 Mbps
Portable Design (5" Long and 12.5 oz)
3.5" LCD Display with 800x480 Resolution
Uses SDXC and SDHC Memory Cards
EN-EL20 Compatible Rechargeable Battery
HDMI, LANC, 3.5mm Audio Input and Output
B&H Photo is currently accepting pre-orders on the Blackmagic Pocket Cinema Camera
Expected availability: July 25 2013
The new Blackmagic Pocket Cinema Camera has most of the features of its bigger brother the Blackmagic Production Camera 4K, including its feature film look, but has been redesigned with a dramatically smaller size that is less than an inch thick and can be held easily in the photographers hand.
This compact design allows the Blackmagic Pocket Cinema Camera to be used in more situations where a larger camera would not be practical. It's so small that it can be used in situations in the field where a larger camera could be dangerous. The camera's film look even allows personal video to be shot with the style and creativity of a motion picture film.
The Blackmagic Pocket Cinema Camera features an industry standard Super 16 sensor size, so it's perfect when using Super 16 cine lenses via MFT adapters, as the shooting experience is the same as using the same lens on a Super 16 film camera. The 13 stops of dynamic range look of the Blackmagic Pocket Cinema Camera is almost identical to shooting on a professional Super 16 film camera. The Micro Four Thirds lenses offer a wide range of low cost lenses with amazing image quality, and they are compatible with mount adapters such as PL mounts for large lens and professional motion picture film rigs.
One of the most important features of the Blackmagic Pocket Cinema Camera is its super wide dynamic range of 13 stops, allowing feature film quality images. A common mistake in the television industry is the assumption that more resolution means higher quality. Most cameras, even ones with higher than HD resolution, can produce"video" looking images that suffer from highlight and black clipping that limits details.
Blackmagic Pocket Cinema Camera's wide dynamic range eliminates this problem and provides film quality with dramatically more detail retained in black and whites in the image. Once the shoot is complete, DaVinci Resolve Lite color correction software can be used to adjust images and take advantage of this extra range in the images.
About B&H Photo Video
As the world's largest source of photography video and audio equipment, B&H Photo-Video is known worldwide for their attentive, knowledgeable sales force, and excellent customer service, including fast, reliable shipping. Visitors to the website can access a variety of enlightening articles and educational videos. B&H has been satisfying customers worldwide for close to 40 years.