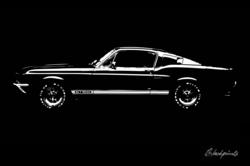 I've always been drawn to the individual features of a car and I feel like each of these exposed qualities gives each one its own unique definition.
Charlotte, NC (PRWEB) June 10, 2013
Blackprints are inverse black and white printed illustrations of beloved classic cars, and in order for artist Sabrina Chun to bring her creations to life, she has sought out funding on Kickstarter with the help of Command Partners, the top digital marketing agency in Charlotte, NC. Within 24 hours of the project launch, Blackprints had reached its $5,000 funding goal, and has currently raised almost $70,000 with 16 days remaining in the campaign.
We are attracted to cars because of their shape and form, their power and performance, their feel and sound, as well as a myriad of other factors. Chun's minimalist art style has reduced the cars to their most striking features to remind the viewers of why they fell in love with the classic cars in the first place.
Chun has spent years at car shows and track meets capturing her favorite models with her camera. She believes that each car has its own story; the method in which a car is formed tells a lot about its personality and structure. In March of 2013, Chun decided to combine her passion for cars and art design by translating her photographs into minimalistic art prints in order to show others what she sees when she looks at a car.
In exchange for supporting Chun's eco-friendly collection, she is currently offering the Blackprints at discounted prices on Kickstarter. Starting at as little as $9, the inverse black and white illustrations of cars can serve as great conversation pieces based on the car's relevance in history and pop culture. Rewards for supporting the project range from $2 to $159 and include mini 6x9 Blackprints (single and collector's sets) and 24x38 Blackprints (also single and collector's sets).
"I've always been drawn to the individual features of a car and I feel like each of these exposed qualities gives each one its own unique definition," says Chun. "However, imagine seeing nothing but that. Now we can appreciate the cars in a different light, which is why I've embarked on this art project."
Each print is eco-friendly because they are lasered onto an 80 lb recycled paper card stock with soybean-based ink and solvent. These photographic-quality prints all come in a matte finish and the classic cars that make up Chun's collection include the Porsche 911, '67 Mustang GT500, Ford GT40, Volkswagen Microbus, 427 AC Cobra, Lamborghini Countach, BMW E30, DeLorean DMC-12 from "Back to the Future", and the Ghostbusters Ecto-1. Currently, backers will receive one free Ford GT40 print along with any print purchased on Kickstarter.
To learn more about Blackprints' Kickstarter campaign or to support the project in exchange for Blackprints, visit http://bit.ly/BlackprintsKS on or before June 21, 2013 when the project's crowdfunding campaign ends and Chun begins production. You can also find Blackprints on Facebook and Twitter @bprintdesign.
About Blackprints
Sabrina Chun founded Blackprints in March 2013 to combine her passion for cars and
art. She uses the hundreds of car photos she's taken, as well as die-cast car models for
inspiration. Chun takes the strongest attributes of each car using one, or a composition of several, images to create a Blackprint. The result is an elegant black and white silhouette print that captures the true essence of our favorite classic cars. To learn more about Blackprints, visit http://www.blackprintdesign.com.
About Command Partners
Command Partners is a digital media agency that focuses on driving online visibility and lead generation including social media marketing, search engine optimization, public relations and strategic advisory services. Command Partners works with clients ranging from high-tech startups and e-commerce brands to Fortune 500 companies. The agency is located in Charlotte, North Carolina and works with clients around the globe.
For more information on Command Partners' services, visit http://www.commandpartners.com, Like them on Facebook and Follow them on Twitter @CommandPartners.