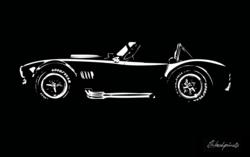 San Francisco, CA (PRWEB) June 20, 2013
Blackprints is a nine-piece collection of inverse black and white printed illustrations of the world's most beloved classic cars. In order for artist Sabrina Chun to bring the elegant black and white silhouette prints to market, she needs help covering the costs of printing the illustrations in large quantities, and has sought funding via the most popular crowdfunding site, Kickstarter. Within the first 24 hours of launching her campaign on the platform, Chun raised the $5,000 in funding she needed to bring the collection to print, and is now looking at an extra $65,000 worth of orders and additional funding.
Chun found her artistic inspiration from a culmination of different art movements from the mid-twentieth century to the late 1950s to '60s British and American pop art, in addition to the retro-futuristic movement of the 1970s. Art, photography in particular, has always been a powerful influence in her life, which led Chun to combine her passion for art design and cars by translating her photographs of classic cars into minimalistic art prints in order to highlight their unique, striking features.
The Blackprints collection includes reverse black and white illustrations of the Porsche 911, '67 Mustang GT500, 427 AC Cobra, Lamborghini Countach, BMW E30, Ford GT40, Volkswagen Microbus, DeLorean DMC-12 from "Back to the Future" and the Ghostbusters Ecto-1. Chun chose these nine cars for the collection after carefully curating and selecting what she believes to be the most aesthetically pleasing cars of the past twentieth century; European racing cars and American muscle cars, in addition to two recognizable cars from the films "Back to the Future" and "Ghostbusters."
With just two days remaining in the project's campaign, Chun hopes to go out with a bang, and has offered a new reward; Blackprints t-shirts. Thats right, supporters are now able to purchase prints of their favorite reverse black and white illustrations of classic cars on t-shirts. The actual Blackprints prints come in two different sizes (mini and jumbo) and pricing ranges from just $9 for one to $159 for 18 (9 mini and 9 jumbo).
To learn more about Chun's Blackprints collection or to place an order, visit http://bit.ly/BlackprintsKS on or before June 21, 2013 when the project's crowdfunding campaign ends and Chun moves towards production of the illustrations. You can also find Blackprints on Facebook and Twitter @bprintdesign in order to stay up to date with the campaign.
About Blackprints
Sabrina Chun founded Blackprints in March 2013 to combine her passion for cars and art. She uses the hundreds of car photos she's taken, as well as die-cast car models for inspiration. Chun takes the strongest attributes of each car using one, or a composition of several, images to create a Blackprint. The result is an elegant black and white silhouette print that captures the true essence of our favorite classic cars. To learn more about Blackprints, visit http://www.blackprintdesign.com.