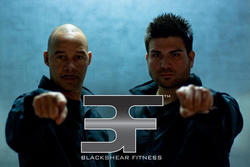 Our bodies were created to be active; however, due to many circumstances we as a society have become sedentary, and Riverside is one of the most obese counties in the state
Riverside, CA (PRWEB) June 29, 2010
Blackshear Fitness Bootcamp is an indoor/outdoor fitness program that focuses on all aspects of physical fitness. The program includes muscle strength, endurance, cardiovascular strength, body composition, flexibility, and nutrition planning.
Boot campers meet for one hour Monday, Wednesday, and Friday, at the Acrogymnastic center in Downtown Riverside, Ca. On Tuesdays and Thursdays, the campers meet at Mt. Rubidoux for fun outdoor workouts, designed for all fitness levels.
An accomplished athlete and certified personal trainer for over 20 years, Blackshear Fitness founder,Roger Blackshear, has an extensive client list that includes professional athletes and celebrities like: Kym Gold, co-founder of True Relgion Jeans, CEO of Win Win Global record label Victor Newman, actors Reno Wilson and Michaela McManus, just to name a few.
"Our bodies were created to be active; however, due to many circumstances we as a society have become sedentary, and Riverside is one of the most obese counties in the state," explained Roger Blackshear. "We've got to return to the basics of healthy living and include structured activity within our daily routine. The exercises we use are more efficient than the traditional means of fitness workouts. We offer more than just a change in physique but an actual change in your overall fitness capacity."
A partnership with Riverside's own Goodwin's Organic Grocery Store introduces Boot Campers to the city's only certified organic grocery store which hosts monthly nutrition classes. "After our first nutrition class with store owner Martin Goodwin, many bootcampers had full carts of organic groceries, including me," added Blackshear.
The Blackshear Fitness program combines a variety of techniques to achieve impressive results. The program uses a training system modeled after the military bootcamp concept, broken down into manageable four week tours. The Boot camp method challenges participants to employ more muscle groups and perform cardio at the same time.
"My wife and I just finished our first month of Blackshear Fitness's boot camp, and we loved it. Previously, I used several vigorous fitness routines, including distance running and weight training, but boot camp was more interesting, challenging and fun. We lost weight, and gained strength, flexibility, stamina, and confidence. Roger and Sammy run a great program," explained Boot Campers Lawrence and Tina Bynum.
Fueled by his passion for physical fitness, Blackshear Fitness Co-Founder, Samuel (Sammy) Villalta, who's own transformation led him to a 100lb weight loss, strives to reach people of all fitness levels and encourages them to take that first step towards their fitness success. "Our mission is to help Riverside become a healthier city", said Villalta. "Come and join us. Tell your friends and co-workers, post this news release on your Facebook wall, send out the official Tweet, and bring a friend."
Official Tweet: "Get Fit with @Blackshearfit #fitness #bootcamp in Downtown Riverside, CA. Join now! http://ow.ly/1YvOx Pls RT."
The first step in joining Blackshear Fitness Bootcamp is click 'join now' and select the number of weeks: 4, 8, or 12 you'd like to attend and then the number of days per week. 3 times per week or 5. To show their commitment to the Riverside Community, Roger and Sammy invite all Riversiders to come 'check out' a regular camp session for free.
Summer is just around the corner, and Blackshear fitness bootcamp is right downtown. Welcome to the neighborhood.
About Blackshear Fitness
Blackshear fitness is committed to providing effective exercise and nutritional programs that will help shape and transform individual's bodies to look and perform at their best. We strive to change lives through fitness by encouraging people to not merely go through life surviving, but to embrace living. To learn More visit http://blackshearfitness.com/home.php
# # #