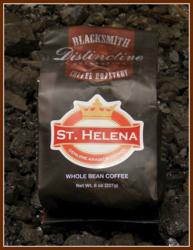 Of all the exotic coffees we import, the St. Helena is the Crown Jewel of them all...
Lindsborg, KS (PRWEB) February 08, 2013
Few coffee connoisseurs have ever heard of the tiny, British Overseas Territory island in the South Atlantic known as St. Helena, yet the rare 'Green Tipped Bourbon Arabica' cultivar grown there is considered the finest coffee in the world. It's also the rarest and one of the most expensive, fetching $64/8oz bag.
Due to several factors including its remote location, limited harvestable land and long growing season, St. Helena only produces a few thousand pounds of coffee a year. Perhaps that's why few Americans have ever tried or even heard of this rare delicacy. Yet, St Helena - Sandy Bay Estate coffee has a legendary history, having won a premier award at the Great Exhibition way back in 1851.
According to Mark Galloway, co-owner of exotic coffee purveyors, Blacksmith Coffee Roastery, St. Helena coffee is the most desirable coffee in the world. "Of all the exotic coffees we import, the St. Helena is the Crown Jewel of them all with flavor characteristics as big and legendary as its history! We work with exotic coffee growers worldwide as well as brokers in Asia and Europe to source the rarest coffees on earth and though all are unique in their own right, certain coffee's flavor characteristics just transcend anything else. The St. Helena is like that", Galloway shared.
Blacksmith Coffee Roastery imports limited amounts of St. Helena coffee and currently is offering an 8 ounce bag for $64, packaged within one hour after roasting and immediately shipped to customers. "When compared to the price of a can of grocery store coffee, that sounds outrageous!" said Galloway. "But the proof is in the cup. As hard as it is to believe, most of our customers who purchase a bag of St. Helena coffee for the first time experience a kind of sensory enlightenment. Very few don't order a second bag after that experience!"
If a coffee selling for the equivalent of $128 a pound reminds you of high dollar wines, it's no accident. Galloway explains, "Exotic coffees are more like fine wines than the cheap canned commodity coffees available at the corner grocery store. Coffee aficionados understand this, and like fine wine enthusiasts, who won't hesitate to spend hundreds or thousands of dollars on a rare vintage, discriminating coffee drinkers see the real bargain that a mind-blowing exotic coffee is in comparison. Even at $64 for half a pound!" According to Galloway, the most expensive coffee on a per cup basis is significantly less expensive than a glass of wine from a 'typically priced' bottle of premium wine.
The real question, is it worth it? Maybe so as Galloway relates, "Few coffees universally appeal to the majority of specialty coffee enthusiasts. However, the St. Helena is perfectly balanced with various aromas and flavors that present themselves as the coffee is experienced. Nearly everyone who has experienced the St. Helena has loved it!"
Why does St. Helena coffee taste the way it does? Some of the coffee's characteristics originate in the Green Tipped Bourbon Arabica bean, which is grown in St. Helena's rich volcanic soil which, when combined with their one-of-a-kind microclimate, results in the coffee's desirable flavor. Pure spring water, originating from the island's mountain peaks, is used to wash, or wet process the coffee and the beans are sun-dried in the subtropical, South Atlantic sunshine. The coffee is then shipped to roasters located primarily in Europe and Asia and then roasted to a medium degree of roast which extracts the subtle and varied flavors present within each bean.
To justify his passion for this coffee delicacy, Galloway concludes, "Last year I was conversing with the foremost exotic coffee broker in the world about the rarest coffees and asked him, of all the amazing coffees he deals in, what his personal favorite coffee is........he said it's the St. Helena - Sandy Bay Estate coffee."
Blacksmith Coffee Roastery can be found online at http://www.BlacksmithCoffee.com or by calling 1-800-576-5280
Heard of St. Helena but can't remember why? St. Helena is the location of French Emperor Napoleon's exile after his defeat to the British at Waterloo in 1815.