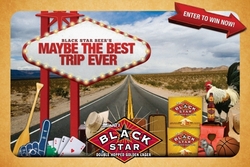 San Francisco (PRWEB) July 7, 2010
Black Star Beer (blackstarbeer.com), the small beer company originally from Whitefish, Montana, has launched Maybe The Best Trip Ever sweepstakes through their Facebook fan page (facebook.com/blackstarbeer). Black Star has put some of the experiences they love into Maybe The Best Trip Ever and will randomly select one lucky fan to bring five of his/her friends to share this once in a lifetime adventure.
The winning fan's group will start their extraordinary journey by flying to Whitefish, Montana to brew beer at the Great Northern Brewery, where the beer will be bottled and packaged with their own custom label. From there, they will fly fish with the masters, go river rafting down the Flathead River, and camp in Glacier National Park. After all that, they will travel in a private jet to practice with a professional basketball team, and then get back in the jet and fly to Las Vegas to stay at one of the city's nicest resorts complete with their own poolside cabana and suite.
They will also receive six round trip airfare tickets for a vacation from this vacation just because it is awesome, and the winning party might need some time to relax after this adventure. The winner will also receive Black Star swag and an HD video camera to prove the trip actually happened.
When asked why Black Star is focusing on growing a Facebook community, great-great-grandson of American beer icon, Henry Weinhard, 5th-generation Brewer and Founder of Black Star, Minott Wessinger responded, "Facebook is full of beer loving people like you and I. But a beer brand doesn't have to talk about beer all the time. We think people appreciate all sorts of other things and have many hobbies and interests that in some way are related to the spirit of Black Star. So when you think of it like that - beer, travel, friends, fun, adventure...it makes sense."
Black Star beer's Maybe The Best Trip Ever sweepstakes will run on Facebook for eight weeks from June 29, 2010 to August 19, 2010 where a winner will be selected at random and notified via email. Entering to win is simple: head to facebook.com/blackstarbeer, click on the sweepstakes tab and register to win.
Black Star offers people not only a quality beer but is also working to creatively build an audience with an appreciation for interesting, original, and entertaining content.
For entry, updates and full details head on over to facebook.com/blackstarbeer.
Certain rules and restrictions apply: http://apps.facebook.com/maybethebesttripever/contests/42385/rules
Privacy Information: http://apps.facebook.com/maybethebesttripever/contests/42385/privacy
About Black Star Beer
Black Star Double Hopped Golden Lager was first brewed in Whitefish, Montana at the Great Northern Brewing Company in 1995. The beer was created by Minott Wessinger, a fifth generation brewer and great-great grandson of West Coast brewing pioneer Henry Weinhard. Black Star is a remarkably crisp and refreshing double-hopped (dry-hopped) lager with a distinctive, hoppy aroma and a rich, full-bodied flavor. In February 2010, Minott Wessinger and the Great Northern Brewing Company celebrated the 15th Anniversary of its first brewing. For more information, please visit blackstarbeer.com.
Media contacts:
Ashley Garver, Black Star Beer 415.732.1025

Sian Parry, Glodow Nead Communications 415.394.6500
Social Media: facebook.com/blackstarbeer or twitter.com/blackstarbeer
###