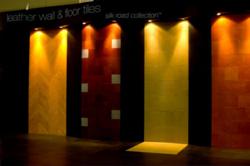 The purpose of our business is to provide leather products that create sustainable elegance.
Stouffville, Ontario, Canada (PRWEB) September 08, 2011
The Silk Road Collection is an exquisite series of leather floor tiles that can be specified with or without a magnetic adhesion system. They are made from the same vegetable tanned and finished leather used for shoe soles. This system, allows creative designs to be installed quickly and easily. Silk Road wall tiles usually are adhered with adhesive. The magnetic floor tiles feature a flexible backing that attaches the tiles to a steel substrate or a substrate that has been painted with a magnetic receptive paint (included), making it simple to install and reconfigure if a new look is desired.
The new tapestry collection is made from beautiful mineral tanned upholstery grade leathers finished with aniline dyes that are 100 percent full natural grain bovine leather and come in a variety of sizes, shapes, and colors including custom orders. Silk Road floor and wall tiles are of the highest quality. With time, a natural patina develops, which reflects the pattern of the owners lifestyle.
All Blackstock tiles, including their magnetic leather wall tiles, trigger the strongest of senses with the subtle but distinct aroma of leather. The customer connects to its warmth to the touch by the way it soothes your feet when walking on it. By installing leather floor and wall tiles from Blackstock Leather, any space can be transformed into one that exudes luxury and style.
Blackstock Leather Inc., a family company dedicated to the stewardship of leather innovation and traditions, is located in a charming 19th Century schoolhouse in a community just North of Toronto, Ontario Canada. It was founded in 1991 by Stephen Manchee after the sale of his family's leather business 1989. Stephen's passion for the leather industry and the product itself is rooted from his worldly experiences and lifetime in the business.
For more information about the Silk Road, Tapestry collections or magnetic leather wall tiles, please contact: 1 (800) 663 6657 or visit http://www.blackstockleather.com/.
###