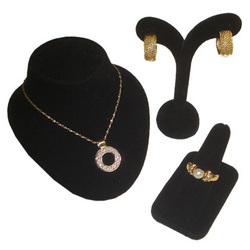 Presentation Box & Display's In-Stock selection of jewelry displays helps pawnbrokers save time and money with our quick-ship Express Program
Pawtucket, RI (Vocus) July 8, 2010
Presentation Box & Display (Pres Box) a division of International Packaging Corporation will be first time exhibitors at the National Pawnbrokers Association Convention & Expo from July 21- 22, 2010.
Pres Box has a complete line of Express Quick Ship jewelry displays that is well suited for today's successful pawnbroker from traditional leatherette displays, sheik acrylic displays, to elegant Black Velvet displays. These displays offer pawnbrokers everything they need to securely and successfully merchandize their jewelry and increase their profits.
Pres Box will introduce at this show a brand new line of White Leatherette displays with beautiful Rosewood Trim. These new displays provide pawnbrokers a cost effective solution for an upscale look for their nicer jewelry pieces.
The Pres Box Express line of jewelry boxes offers many jewelry packaging options for the pawnbroker industry. The full selection will be on display at the Expo including: Economical Cotton Filled Jewelry Boxes, White Leatherette hinged boxes, Bow-Tie Boxes with a ready to use bow/ribbon decoration, and the stylish Classic Square Cornered Jewelry Boxes with Gold Tooling. The Pres Box line of jewelry boxes accommodates several different styles of jewelry, including Rings, Earrings, Pendants, Bracelets, and Watches.
"Presentation Box & Display's In-Stock selection of jewelry displays helps pawnbrokers save time and money with our quick-ship Express Program" states Belinda Duva, National Accounts Manager. "Express orders also ship within 48 hours, which provides additional peace of mind for the pawnbroker who needs their boxes, pouches, or displays immediately."
"Our line of In-Stock jewelry packaging provides cost effective options for pawnbrokers that will still excite the buyer," adds John Cavanagh, Vice-President of Pres Box.
For further information on Jewelry Boxes and Displays, please visit - http://www.JewelryPackaging.com, or call 1-800-556-7390.
###