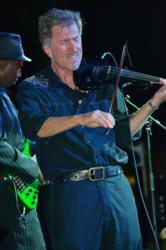 This is insanely captivating and different. I love that this instrument is being played in this manner and has such diverse appeal.
Los Angeles, California (PRWEB) October 05, 2012
Slakey Brothers is proud to present internationally known rock violinist Noel Webb in private concert on January 10, 2013 at 7:30PM. The private concert will be held at The Meritage Resort and Spa in Napa Valley, California.
What do you do with a violinist that has the soul of Jimi Hendrix and the heart of Muddy Waters? Just as Hendrix redefined rock and Waters electrified the blues, you let Noel Webb do what he does best - create music that redefines the landscape of the world around him.
A mainstay in the music industry, Noel has numerous albums to his credit; the latest is "Journey With Me" (2012) on Red Lab Records. Webb has shared the stage with the "greats" like blues legend John Hammond, jazz legends from John Coltrane's band, Grover Washington, Jr. and rock icons such as Blood, Sweat & Tears, The Tubes and REO Speedwagon. One of the most popular instrumental rock violinists played on mainstream radio and innovator of the rock/jazz violin, Webb presents himself with renowned energy, sensuality, and style that places the violin front and center in the changing genres of rock and adult contemporary music.
"This is insanely captivating and different. I love that this instrument is being played in this manner and has such diverse appeal. This song ("Journey With Me") has brilliant structure and dynamics. I hope he makes more music like this song. LOVED IT!" - Anrgirl Holly Hutchison, A&R Executive Capitol Records and Atlanta Records
"His music celebrates." - Los Angeles Times
For interviews and more information about Noel Webb please contact Joe Wilson of Labrador Entertainment at [email protected] or 818-582-5752.
ABOUT SLAKEY BROTHERS
Established in 1939, Slakey Brothers has grown from a small family-owned company to an employee-owned corporation with twenty four branches and three design center show rooms; The Plumbery and Plumbing N'Things. Specializing in the sale of plumbing, heating and air conditioning equipment and parts, Slakey Brothers services California, Western Nevada, and Southern Oregon.
ABOUT BLACK WIDOW MUSIC, LLC
Black Widow Music, LLC (a digital label and music licensing company) was created in 2004. The result after many hours of labor and hard work is a business organization that stays on the forefront of industry technology and practices, but remains true to the "music" and avoids the traps of commercialism. Featuring the best in EDM, jazz and various genres of instrumentals our catalog is broad and diverse, but prevails on the primary focal point of why the label was created in the first place.
Black Widow Music, LLC: Quality music not quantity music.