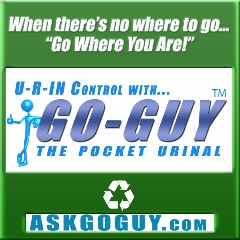 When there is no where to go, go where you are with Go Guy the pocket urinal.
Pawtucket, Rhode island (PRWEB) October 27, 2011
Urgency incontinence is a condition in which men lose urine with a strong sudden urge to go and can't get to the bathroom in time. These wetting accidents may make men rely on pads to deal with them. U-R-IN Control invented Go Guy the pocket urinal so that individuals do not have to wear pads but have something to use in case of emergency. The two most common types of urinary incontinence are urgency incontinence and stress incontinence.
Urgency incontinence is a key symptom of OAB (Over Active Bladder). Prescription medicines can help reduce urgency incontinence symptoms. Stress incontinence is when urine leaks due to activities such as coughing, sneezing, running, or heavy lifting. It's caused by weakness of the muscles that help hold urine in the bladder. For people with stress incontinence, treatment options may involve lifestyle changes, including certain exercises and surgery. Prescription medicines that may work for urgency incontinence symptoms do not treat stress incontinence symptoms. Some people may experience a mix of both stress and urgency incontinence symptoms. Behavioral changes can help both types of incontinence. No matter which type of incontinence issue men may have Go Guy has been able to help with security when urges strike.
Backed by one of the top urologist Dr Anthony Cantanese which states "Go-Guy is an amazing product which I encourage many of my patients to purchase and use. It is inexpensive, easy to use and puts my patients in control so they don't have to worry about incontinence. It is something that I have been very excited about in my practice. In fact, for the last year I have been handing them out as samples to all my patients."
There are so many misconceptions about overactive bladder (OAB) that the truth often comes as a surprise to most people. Men now know the facts about how aging or childbirth do not cause OAB. But did they know that OAB is also a lot more common than many believe? An estimated 33 million people in the U.S. have OAB based on the National Kidney & Urologic Diseases Information Clearinghouse (NKUDIC). That's about 1 in 6 adults. In an overactive bladder, the bladder muscle may start to spasm to push urine out before the bladder fills up. That's when men feel a strong sudden urge to go, which may even lead to leaks.
Go-Guy is a pocket urinal that uses technological of polymer crystals to quickly solidify the urine and reduce the chance of leaking. Each kit includes a small wet wipe for quick clean up and a bag that has a super tough zip lock top. Once complete a person can simply throw it in the trash. People can find Go Guy on the website askgoguy.com for additional information.
###