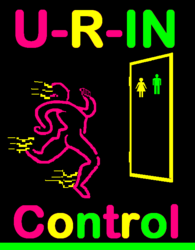 Pawtucket, RI (PRWEB) May 10, 2012
At a sporting event, on long trips, or places where no toilet is available mothers have found Go Guy the pocket urinal the perfect fit for emergency use. Children as well as adults can have an overactive bladder. A child with an overactive bladder will need to urinate frequently, and at times the need may be urgent. He or she may not make it to the toilet before the urine begins to flow. U-R-IN Control developed an emergency bag that mothers can now carry in their cars or purse to eliminate the embarrassment of a child urinating in public.
Children with overactive bladders have a need to urinate more often than usual because their bladder muscles have uncontrollable spasms. The muscles surrounding the urethra -- the tube urine from the bladder passes through --can be affected. These muscles are meant to prevent urine from leaving the body, but they may be "overridden" if the bladder undergoes a strong contraction. Mothers must try and deal with these issue so their child can live a normal life. U-R-IN Control developed a specially designed polymer bag with a comfortable sized opening and 700ml capacity for worry free relief. It has a water tight top seal, space-aged polymer crystals for quick absorption to eliminate spills and odors and can be used for emergency bladder relief when a restroom is not around.
There are many other reason mothers have a need for Go Guy. Urinary tract infections which can cause a need to urinate as the urinary tract becomes inflamed and uncomfortable. Certain neurological condition may cause these symptoms.
Another cause of overactive bladder is a condition called pollakiuria, or frequent daytime urination syndrome. Children who have pollakiuria urinate frequently. In some cases, they may urinate every five to 10 minutes or urinate between 10 and 30 times a day. This condition is most common among children aged 3 to 8 and is present only during waking hours. There are no other symptoms present. Doctors believe that pollakiuria is related to stress. Usually, the condition goes away after two to three weeks without requiring treatment. Many other reasons mother's now carry U-R-IN Control for their children are consumption of caffeine, which increases urine output and can cause spasms in the bladder muscle, consumption of ingredients that a child may be allergic to, events that cause anxiety, infrequent urination (holding urine for too long a period of time), small bladder capacity, structural abnormalities in the bladder or urethra, and constipation.
U-R-IN Control product line including Go Guy can be found at askgoguy.com.