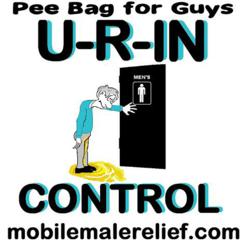 When there is no where to go, go where you are with go guy the pocket urinal
Pawtucket,RI (PRWEB) January 11, 2012
U-R-IN Control (http://www.askgoguy.com/), the maker of Go Guy -- the astonishingly tiny pocket urinal that solidifies urine through polymer crystals -- is kicking off 2012 with an international awareness campaign designed to help people across the world understand the symptoms, causes and treatments of a serious and yet poorly understood health problem: urinary incontinence.
"Despite the incredible amount of health and medical information available at our fingertips, urinary incontinence continues be misunderstood or just plain overlooked by many people," commented Ron L. Wierks, Partner of U-R-IN Control, the Rhode Island-based manufacturer of Go Guy "That's why our urinary incontinence awareness campaign is so important. We want people of all ages to understand the issues here, and if necessary and appropriate, get the medical attention and other support that they need. By shining a spotlight on the issue, we want to make it acceptable for people to talk about this without embarrassment or shame."

SYMPTOMS. There are five general symptoms of urinary incontinence: stress incontinence (when urine leaks due to sudden pressure on the lower stomach muscles); urge incontinence (when the need to urinate flares up suddenly -- often before one can reach a toilet); overflow incontinence (uncontrollable leaking of small amounts of urine); functional incontinence (normal urine control, but trouble reaching the toilet in time due to arthritis or some other health condition); mixed incontinence (a mixture of more than one of the previously-mentioned symptom types).
CAUSES. There are many possible causes of urinary incontinence, including: aging; weak pelvic muscles; diabetes; enlarged prostate gland or prostate surgery (men); thinning and drying of the skin in the vagina or urethra, particularly after menopause (women); side effects of some medications; build of stool in the bowels; obesity or being overweight; urinary tract infection; Alzheimer's disease; and multiple sclerosis.
TREATMENT. There are various medically-approved treatment methods for urinary incontinence. The appropriate treatment depends on the type, severity and cause. In some cases, bladder training through strengthening the pelvic muscles can help. Medicine and surgery can also help alleviate symptoms or address causes, such as prescription medication to shrink the prostate (men), or estrogen cream (women).
"The most important thing that people should do if they suffer from, or suspect that they suffer from urinary incontinence, is speak with their doctor," added Wierks. "There is absolutely no substitute for sound medical advice, even if the problem seems relatively minor at the moment. And of course, boys and men who struggle with urinary incontinence or other bladder control issues can use Go Guy to help manage their situation in a safe, discreet, convenient and very affordable way."
###