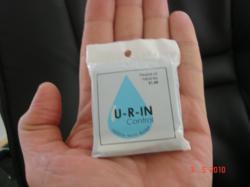 When there is no where to go, go where you are with Go Guy the pocket urinal.
Pawtucket, RI (PRWEB) October 13, 2011
People from across the country have been sending cardboard boxes bearing food, medical supplies, clothes and blankets to the masses who have camped out near Ground Zero since Sept. 14. Due to the increase in protesters a mini-tent city has been established in Zuccotti Park, at the corner of Broadway and Liberty St. U-R-IN Control takes strides to help the citizens of NY combat the Wall Street Protesters lack of public facilities. With so many protesters lining the streets there is a need for a sanitary device like Go Guy the pocket urinal. For health reasons the company has sent boxes of Go Guy to hand out to the male population so they just don't pee in the streets. With retailers refusing to let the protesters use their restrooms there are sanitary issues.
Activists at New York City's Zuccotti Park, where the protests began Sept. 17, have formed their own volunteer cleaning crews, collecting trash and sorting recyclables. They have also offered to clean the restrooms of the businesses in the area of the park. Go Guy can be used when retailers refuse the protesters their restroom facilities. Go Guy will reduce the smell and at least make it more pleasant to deal with this situation. The tent people will not have to worry if they are sleeping in urine.
Other cities will be having the same sanitary problem as the protesters grow to Seattle, Philadelphia, Atlanta and Austin, Cleveland, Texas and Washington's Freedom Plaza. Go Guy (pee bag) is specially designed with 700ml capacity for worry free relief. It has a water tight top seal, space age polymer crystals for quick absorption to eliminate spills and odors, and can be used for emergency bladder relief when a restroom is not around. The sanitation and police department can hand them out to protesters to control their city. For further information you can visit the website at askgoguy.com.
###