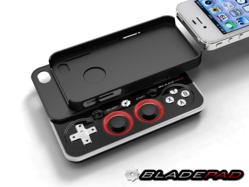 "Bladepad gives the gamer dual analog sticks and a full console-controller button layout, making iPhone games much more enjoyable," said Baum
Prove, UT (PRWEB) August 06, 2012
Bladepad, a detachable iPhone game controller, is getting their product noticed through their Kickstarter funding campaign. The campaign is also providing legitimacy for Bladepad and showing strong demand for support from popular iPhone games.
The Bladepad is both a protective case and a video game controller for the iPhone. The game controller slides out for easy gaming and fits comfortably in your hand. When not in use, the controller can be stored in the case, or can be easily removed.
"I wanted to make playing games on the iPhone easier" said CEO of Bladepad LLC David Baum. "Bladepad gives the gamer dual analog sticks and a full console-controller button layout, making iPhone games much more enjoyable."
The Bladepad currently works with the iPhone 4S by connecting to Bluetooth 4.0. The Bladepad comes with a protective case that can be used even with the controller detached. To keep the iPhone game controller charged as well as the iPhone itself, a USB charger is included which will charge both devices simultaneously.
There has already been press surrounding the Bladepad. They have been mentioned in iPhoneBuzz, Chron.com, and Appadvice.
Bladepad began their Kickstarter campaign on August 1st and will end on August 26th with a goal of $55,000. Early adopters can get the black Bladepad for $69 and backers can receive the special Kickstarter white and green pad for $79.
Bladepad is already gearing up to build an iPhone 5 version of the Gamepad. An android version will also be made available in the future.
To pre-order your Bladepad, visit their Kickstarter page.