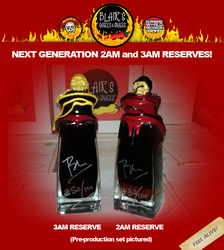 the chili head community is made up of some amazing, giving people.
Highlands, New Jersey (PRWEB) September 29, 2009
Blair's Death Sauce would not ordinarily appear to have anything to do with children. How could incredibly hot sauces make a significant difference for needy kids? Well, Blair Lazar, the creative founder of Blair's Sauces and Snacks (http://www.extremefood.com ), has found a way to simultaneously spread the heat and create beautiful smiles.
Lazar proudly announces the launch of his all-new, next generation, series of collectible "2am" and "3am" Reserve Bottles. Fifty percent of all proceeds are generously being donated to SmileTrain (http://www.smiletrain.org), the world's largest cleft lip and cleft palate charities, and one of Lazar's favorite causes. In less than 5 hours, $5000 has already been generated, and the lives of at least twenty children will be forever changed. "I am so excited to be a part of such an important mission," says Lazar. "It gives everything I do much greater meaning," he adds. Lazar clearly takes his motto, "FEEL ALIVE" to new heights.
While Blair's is recognized world-wide for a variety of ultra hot sauces, (e.g., Original Death Sauce, After Death Sauce, Ultra Death Sauce), Blair's designs special collectible bottles for the most serious of fans. Blair's Reserve Collection includes a selection of award-winning, limited-edition, hand-crafted, signed and numbered bottles of pure heat. These unique bottles are found in the collections of hot sauce connoisseurs around the world. Each Reserve edition commemorates a significant event or experience, beginning with the "A.M." series noted above. This series originated in the early 1990's when Lazar was bartending on the Jersey Shore. Patrons wanting to stay past the 2 am closing time were dared to try "Blair's Wings of Death," made with Blair's Original Death Sauce. Anyone who survived could stay as long as they wanted, thus, giving rise to the remaining items in the "A.M." series (e.g., 3am, 4am, 5am, and 6am Reserves). Also noteworthy in the Reserve Collection, is "Blair's 16 Million Reserve," certified by Guinness World Records as the "World's Hottest" food product.
Lazar speaks of feeling humbled to be able to raise significant sums for charity during these challenging economic times. "It really all comes from the hearts of the chili heads out there," says Lazar, "the chili head community is made up of some amazing, giving people." Clearly, Blair's fans are turning up the heat and making a real difference to others.
About Blair's Sauces and Snacks
Blair's Sauces and Snacks (http://www.extremefood.com) is a New Jersey based, leading gourmet food manufacturer, specializing in hot sauces and spicy snacks. Blair's is dedicated to providing, the highest quality products, where incredible heat meets intoxicating flavor in a variety of death-defying combinations. Blair's Death Sauces range from the modest heat of "Sweet Death" to the extreme heat of "Ultra Death." All death sauces are packaged with Blair's famous dangling skull. Blair's Death Rain Potato Chips, Death Rain Dry Rubs, Blair's Heat Collection, dips, and a variety of other hot products are available. Blair's products are currently available in 21 countries and are printed in 5 languages.
###