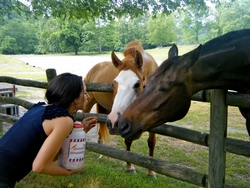 Rohan is like a kid in a candy store. Once he hears that Peppermint Sticks can open, he comes right over to me. Same with my other horse – they just go crazy for peppermint. Even my Boxer dog Izzy loves them
Altoona, PA (Vocus) June 10, 2010
BlairCandy.com prides itself on getting to know its customers. Little did the online candy store know that one of its most loyal customers was actually…a horse! Susie Stephens, of Franklin, Tennessee, got in touch with The Blair Candy Company to reveal that her orders of bulk soft Red Bird Peppermint Sticks weren't just for her, but for Rohan, her six year old Oldenburg Warmblood horse.
Rohan and owner Susie ride in Dressage, where they have successfully competed in various horse shows. Susie notes that that the soft Peppermint Sticks create a foaming sensation in Rohan's mouth, allowing him to accept and chew the bit, working to create a connection from Susie's seat, to her hands, to Rohan's mouth, and ultimately Rohan's movements. Susie treats Rohan to two soft Peppermint Sticks before and after riding, making Rohan one very satisfied BlairCandy.com customer.
"Rohan is like a kid in a candy store. Once he hears that Peppermint Sticks can open, he comes right over to me. Same with my other horse – they just go crazy for peppermint. Even my Boxer dog Izzy loves them," says Susie.
Susie did her research first to ensure the soft Peppermint Sticks were safe for her animals. Together with her daughter, Stefani Gianni, an actress now residing in Los Angeles, they count their two horses and Boxer dog as part of their family, and are continually searching for products, like the Red Bird Peppermint Sticks, to make their animals' lives as fulfilling as possible.
"We were looking for something that would help Rohan chew his bit, and luckily came across the Peppermint Sticks and BlairCandy! The peppermint helps him chew his bit and actually doesn't give him a red foam, which is even better. I'm so happy BlairCandy sells them unwrapped and in the big canister!"
Susie, Stefani, and Rohan are pictured in the attached photos. Rohan is also working with a trainer, and he and Susie are looking to continually move up Dressage levels, with the help of BlairCandy.com's Red Bird Peppermint Sticks.
About BlairCandy.com:
The Blair Candy Company has been family owned and operated for over 71 years, working to keep the rich memories of the past alive as well as continually innovate to meet and exceed the needs of current and future candy customers. In addition to their online candy store, Blair Candy also has an Altoona, Pa brick and mortar wholesale candy distributor, selling candy, tobacco products and accessories, paper products and party supplies, bar and restaurant supplies, and fundraising supplies throughout Pennsylvania. Connect with the excited faces behind Blair Candy on Twitter, Facebook, and their Candy Blog.
###